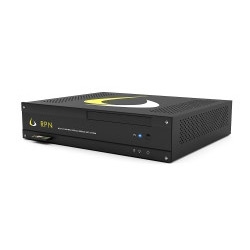 Newington, CT, January 23, 2008 --(
PR.com
)-- Radical Computing (http://www.radicalcomputing.com) the pioneer in intelligent digital signage solutions, today announced the release of an upgraded Retail Path Networks (RPN) line of digital signage media players built upon the industry leading Adaptive Signage™ platform. The aptly named DUO, TRIO and QUAD (named after the number of simultaneous unique video channels available on the units) are all-in-one small footprint digital signage media players, used in a variety of industries and markets.
"A release of this line-up is a culmination of our research and development efforts, in-depth market analysis and extensive collection of functionality requests from numerous end-users. By announcing the new RPN appliances, we are leading the industry into a totally new plateau of expectations and framework which will only benefit everyone," said Vadim Gorelik, VP of Business Development.
All three models have been designed to be extremely user friendly, continuing RPN tradition of intuitive web-based management interface, which allows users to control media libraries, schedules, sequences and build on screen signage in real time via simple web browser. Further expanding RPN reach to new audiences and geographies is the multi-language interface capability. This functionality allows owners of RPN platform to operate and manage players in major world languages. Other optional features, such as a Remote Control, Wireless Connectivity kit or Bluetooth communications kit, offer further expandability and integration functionality.
Product Details:
DUO: The RPN DUO is a 'standard' level media player, which offers enterprise level services in a 2 separate video channel configuration (up to 4 separate or combined audio channels). Default storage capacity – 4GB
TRIO: The RPN TRIO encompasses all standard features available throughout the new product line, as well as 3 independent video channels and up to 4 independent audio channels. Default storage capacity – 8GB
QUAD: The RPN QUAD is an advanced level appliance, which offers enterprise level services in a 4 channel configuration (4 separate audio, 4 separate video channels). Default storage capacity – 8GB
Each audio channel throughout the RPN product line can be configured to work in conjunction with a video channel, or provide a completely independent audio feed, providing another industry first functionality and giving RPN owners another option for customizing their digital signage deployments.
Special Features of the RPN Media Players
Standard feature offered on all three media players is ability to acquire inventory or point of sale data from retail back-end systems to seamlessly generate playback sequences based on pre-defined set of rules. Store owners will have the ability to specify percentage of times a particular piece of advertisement should be played depending on how much of that item is available in inventory. Upon acquiring the data, the media players will be able to match-up the existing rules to available inventory, and affect the playback of content in real-time, without any human intervention.
"This real-time functionality allows retail store operators to more effectively generate playback sequences based on actual inventory data with the sole purpose of reducing their on-hand inventory. Because each media player is built on the Adaptive Signage™ platform, we are able to offer this functionality in every product we have," said Alex Tsyfanskiy, Director of Product Development.
A scrolling menu board is another standard feature on all three RPN media players, allowing store owners, particularly those in retail food business, to create a digital menu board with scrolling line items and pricing. From the web-based back-end interface, shop owners and managers have the ability to modify text and pricing, fonts and sizes, and control the scroll speed. RSS feed integration, multi-frame creation and management capability, playback logging and reporting – are just a few of the features available on all RPN media players.
Also offered as an optional accessory for the entire RPN media player line is the addition of a remote control. It provides field and store managers with VCR-like remote control to affect the playback of content in real-time, by navigating between the content modules within each sequence or to switch between sequences.
Radical Computing Corporation: Evolution in Digital Signage Intelligence™ - Radical Computing Corporation is a manufacturer of a broad line of innovative digital signage solutions. Radical Computing is dedicated to delivering world-class products and services designed to bring intelligent automation into everyday operations and information delivery. For more information, visit http://www.radicalcomputing.com.
###