Announcing Acquisition of Continental Products Company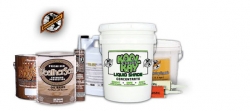 Mayfield Heights, OH, October 17, 2016 --(
PR.com
)-- KEENE Building Products and Dependable would like to announce the addition to the portfolio of companies owned by KEENE Family Holdings. The Continental Products Company, a manufacturing firm with branded products in the Greenhouse and Log Cabin industry and a strong presence in specialty industrial coatings has been acquired. "We are very interested in growing the industrial portion of our companies along with the branded construction related sales," said Jim Keene. "This acquisition represents our dedication to the local community as we grow our business."
Continental has been owned by the same family since 1955. The succession planning of Emerson McArthur and Miriam Strebeck lead to the sale. Started in 1916 in Euclid, Ohio, Continental runs a 45,000 square foot manufacturing facility on East 222nd Street. "Although some of the employees may choose to retire, our goal is to continue the employment for everyone and consolidate our liquid blending," said Chuck Soeder, President of Industrial Coatings.
Manufacturer of Puttylastic, Weather Seal and Kool Ray brands, Continental has a nice position in some niche markets. With a number of other manufacturing processes, the relationship with KEENE and Dependable will allow for brand expansion and some synergistic opportunities. This is the fifth acquisition for Jim KEENE with the object of growing more in the local community. Jim Keene commented that, "Our organization is made up of some energetic, dynamic people with personal and organizational growth as their goal. We want to give them an opportunity to make that growth happen and Continental is a big part of that process."
Keene Building Products is a manufacturer of 3-dimensional filament products for the building envelope and noise control markets. Dependable, LLC is an American manufacturer of professional grade floor products for repair, restoration and new construction.
For further information call 877.514.5336, email at info@keenebuilding.com, or visit websites: keenebuilding.com, floorprep.com, and continentalprod.com.
Contact
KEENE Building Products
Lauren Gramza
440-605-1020
www.keenebuilding.com

Contact