All-Pro Fasteners, Inc./ All-Pro Threaded Products Inc. Receive API Q1 Certification and 20E & 20F Monogram Licensing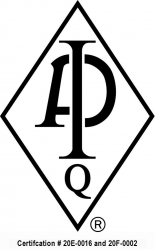 Arlington, TX, October 07, 2016 --(
PR.com
)-- All-Pro Threaded Products, an All-Pro Fasteners company has reached another milestone in its ongoing commitment to excellence.
The All-Pro Companies recognizes that the API Q1 is the international standard to which all petroleum related companies will be expected to meet in the 21st century; therefore on March 15, 2016 All-Pro received the official API Q1 registration, and on September 23, 2016 also became the second of only 2 within the fastener industry who have obtained both the API 20E & 20F monogram licenses.
The American Petroleum Institute has confirmed that All-Pro met all applicable requirements, and that All-Pro has developed and consistently used the procedures that address all relevant elements within their expectations. Through this confirmation and their other subsequent registrations like ISO 9001 and ISO 17025, All-Pro is proud to be among those who are progressively excelling in the fastener industry.
Contact
All-Pro Fasteners, Inc.
Todd Grzych
800-361-6627
www.apf.com

Contact