Fantelope Joins Forces with the Detroit Titans
Fan Engagement Platform Gains College Sports Partnership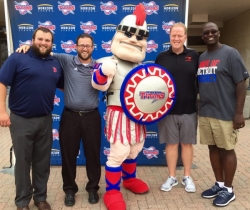 Ann Arbor, MI, October 13, 2016 --(
PR.com
)-- Fantelope is excited to work with the University of Detroit Mercy in launching its new fan competition and engagement platform. As a founding member of Fantelope, University of Detroit Mercy and the Detroit Titans are the first college or university to use Fantelope to engage fans and reward fans for being awesome!
"We are thrilled to become the first school to partner with Fantelope and look forward to providing a great opportunity for all of our fans to claim prizes," said Director of Athletic Marketing & Promotions Jeremiah Hergott.
With Fantelope, Detroit Titans fans can follow their favorite teams, spar with friends and earn recognition and prizes for all they do to support the University of Detroit Mercy.
Fans simply download the free Fantelope app and choose Detroit Titans from the list of teams. Then fans complete in-app challenges like checking in at the game, sharing on social media platforms, watching a sponsor video or tweeting out a photo.
Fantelope is easy, fun and free for fans. And the Detroit Titans prizes are impressive; signed jerseys, gift store discounts, free concessions, VIP experiences, social media shout outs and more!
"Detroit Titans fans are amazing," said Fantelope CEO, Derek Mehraban. "The Titans, otherwise known as Detroit's College Team are a super involved and supportive group of college sports fans and student athletes. Our job is to keep them coming back for more and to use Fantelope to increase attendance, raise awareness and enhance community involvement."
Fantelope is working to partner with other Horizon League schools like Oakland University, Valparaiso University, Cleveland State, University of Illinois Chicago so they can enjoy the benefits of a new fan engagement and competition platform.
"Once more teams get on board, we can compete as a league to see who has the most passionate fans," said Mehraban. "For now the Titans are in the lead for the Horizon League, but we'll see what happens when more Horizon League schools Join the Herd."
More About Fantelope: Fantelope benefits sports teams and sponsors by engaging sports fans through their mobile devices when they are on the move, ready to purchase, and ready to engage. Fantelope benefits fans who want to stay connected to their favorite teams - and earn prizes and bragging rights while doing so. Fantelope is a free mobile app available on the IOS App Store and Google Play Store.
More About The Detroit Titans: The Detroit Titans of the University of Detroit Mercy are 19 men's and women's NCAA Division I-level varsity sports teams, and part of the Horizon League.
Contact
Fantelope
Derek Mehraban
734-720-9522
fantelope.com

Contact