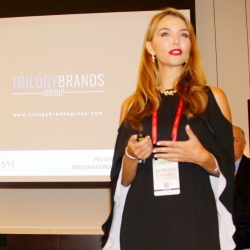 Dubai, United Arab Emirates, October 18, 2016 --(
PR.com
)-- The Global Restaurant Leadership Conference was in Dubai, UAE, and was pleased to announce Trilogy Brands Group, as one of the premiere Presenting Sponsors of the conference.
Trilogy Brands Group is a proud Member of the Advisory Council and a Presenting Sponsor at the inaugural Global Restaurant Leadership Conference held in Dubai, United Arab Emirates on October 9-12, 2016. Leading the Innovation Forum panel discussion on: "International Supply Chain from an Operator Perspective" global supply chain leaders representing the US and internationally-based franchisors and franchisees examine the people, innovations and forces that will change your business for the foreseeable future. The conference will look at the factors revolutionizing restaurant development and expansion and how operators go to market for a decade, a generation or a lifetime; and will share key challenges and solutions in managing global supply chains within the food-service industry. Led by the brightest and most innovative entrepreneurs in food-service, representing $1 Trillion, or 40% of the $2.7 trillion US Dollars, the Innovation Forums feature global "hot topics" and powerful messages designed to spark new ideas and collaboration between the US and the Middle East and North Africa region.
Presented by: Trilogy Brands Group, Panel Moderator and Presenting Sponsor. Winsight Events, Panel Moderator.
Speakers: Barbara D'Amato, CEO at Trilogy Brands Group; Michele Rushing, Vice President International Supply Chain Management at CKE Restaurants; Gary Schwartz, Director of International Supply Chain at Shake Shack, Bryan Griffiths, CEO at EIPC - Subway; Mohamed Gouda Mansour, Managing Director at Caliber Middle East, Barbara Kaiwi, Sr. Director of Procurement and Global Supply Chain at Hard Rock; Mark Avery, Business Development at Winsight Events.
About Trilogy Brands Group
Trilogy Brands Group is recognized as a pioneer in global brand development, creating a faster, better way for US brands to access highly coveted international markets, with an immediate focus on the Middle East. The world is brand-obsessed and consumers want "American" products today. Trilogy Brands Group is focused on creating significant new revenue streams by monetizing idle brand value in a region with very strong consumer demand ready to embrace new trends, youthful, growing and star-performing American brands. Please visit www.trilogybrandsgroup.com for more information.