Deliciously Healthy Halloween Recipes That Are Easy on the Teeth
Delightfully Devilish Deviled Eggs and Quirky Quesadillas just in time for Halloween.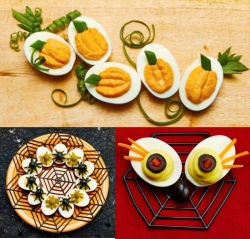 St. Louis, MO, October 18, 2016 --(
PR.com
)-- The
American Association of Orthodontists (AAO)
is getting into the Halloween spirit with two tasty recipes sure to make any party a howling success.
"Perhaps more than any other time of the year, the Halloween season can be filled with temptations to reach for sugary, gooey, sticky treats," says DeWayne B. McCamish, DDS, MS, president of the American Association of Orthodontists. "But sticky treats can be a nightmare for anyone in orthodontic treatment – and for their orthodontists. Not coincidentally, the week after Halloween is usually the busiest time of the year for emergency appointments to repair broken braces which can greatly increase the total time in treatment."
The AAO encourages all patients to enjoy the festivities by choosing desserts and snacks that support a healthy, beautiful smile.
"If it's hard, sticky, crunchy or chewy, stay away!" he advises. "Be sure to avoid caramel, taffy, bubblegum, licorice, gummies or any snack that can damage brackets or wires. That includes hard-shelled candies, taco chips
and popcorn kernels, in particular."
Bring these easy-to-make treats to your next Halloween gathering and you'll be the life of the party:
Delightfully Devilish Deviled Eggs:
Spooky Spiders, Monster Eyes, or Pumpkins (Makes 16 deviled eggs)
8 large eggs
1⁄4 cup mayonnaise
1⁄4 teaspoon kosher salt
Canned black olives, whole, large or Large green olives, whole, pitted, or a mix of both (amounts follow below)
Sriracha Sauce (for the monster eyes or the pumpkins only)
2 green onions, green part only (for the pumpkins only)
For 16 Spooky Spiders:
24 olives total--8 olives=16 halves for body and 16 olives=64 legs
OR
For 16 Monster Eyes:
4 olives
Sriracha sauce (or ketchup if you don't like spicy food)
or
For 16 Pumpkins:
Sriracha sauce
Paprika for sprinkling
Green onion, sliced into sixteen 1⁄4 inch pieces
To make the hard boiled eggs: Over high heat, bring pot of water to a boil. Once boiling, lower heat to medium and gently lower eggs in. Cover pot, boil for one minute, then remove from heat and let sit covered for 15 minutes. Drain pot, fill with cold water, and let sit for 20 minutes. Crack eggs all over and gently peel.
To make the deviled eggs: On a cutting board, slice eggs in half lengthwise. Using a small spoon, scoop out yolks and place in a bowl. Add mayonnaise and salt, then mash well until smooth. Using a small cookie scoop, fill each egg white half with a level scoop of yolk mixture. If making the Pumpkins, add the sriracha to the mixture before scooping into the egg white.
To make the spooky spiders, you will need to slice olives in half, lengthwise. Place 16 olive halves on top of the yolk mixture for the spider's body. Then slice the remaining olive halves lengthwise into 8 pieces for the legs. Place the olive slices on the yolk mixture around the spider's body.
To make the monster eyes, slice the olives crosswise into 4 slices. Place the olive rings onto the yolk mixture. Using the sriracha sauce or ketchup, make thin squiggles outward from the olive to make the red streaks.
To make the pumpkins, add 1⁄2 teaspoon sriracha to the yolk mixture before filling the whites and mix well. The yolk mixture should turn a light orange color. If you want it darker and spicier, add more sriracha. Fill each egg white with the
mixture. Take a knife and make 3 or 4 indentations lengthwise in the pumpkin. Add a small piece of the green onion to the top for the stem. Sprinkle with paprika.
Quirky Quesadillas for Halloween (makes 4)
8 8-inch flour tortillas
8 slices of sharp cheddar or Colby pepper jack cheese
Lay out 4 tortillas on a cutting board. Using a small knife, cut out a jack-o-lantern (or other) face in each.
Onto a large baking tray place 4 whole tortillas and top with the sliced cheese, breaking up any slices to make it cover the entire surface of each tortilla. Top with the tortilla "face" and bake for about 8 minutes, or until the tortillas start to toast and the cheese has melted. Let cool slightly and serve warm.
Variation: Use spinach tortillas for a Frankenstein face.
Editor's Note: High-res images available for download for all recipes at
https://www.mylifemysmile.org/media-image-downloads
About the American Association of Orthodontists
Members of the American Association of Orthodontists (AAO) help children, teenagers and adults achieve healthy, beautiful smiles.
Orthodontists are uniquely qualified specialists who diagnose, prevent and treat dental and facial irregularities to correctly align teeth and jaws. Orthodontists receive an additional two to three academic years of specialized education beyond dental school at an accredited orthodontic residency program.
Founded in 1900, the AAO is the world's oldest and largest dental specialty organization. It represents more than 18,000 orthodontist members throughout the United States, Canada and abroad. The AAO encourages and sponsors key research to enable its members to provide the highest quality of care to patients, and is committed to educating the public about the need for, and benefits of, orthodontic treatment.
Only orthodontists qualify for AAO membership. For more information, and to find AAO-member orthodontists near you, visit mylifemysmile.org.
Contact
Visintine & Ryan
Priscilla Visintine
314-422-5646
visintineandryan.com
Pam Paladin
American Assn. of Orthodontists
(314) 993-1700, ext. 524
ppaladin@aaortho.org

Janet Ryan
Visintine & Ryan
(314) 822-8860
janet@visintineandryan.com

Contact