Global Renewables Investments Signs Contracts in Iran for Wind & Solar Projects
Global Renewables Investments B.V. attend ceremony for Dutch Trade Mission to Iran 23-28 October 2016.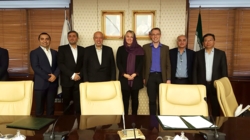 Tehran, Iran, October 26, 2016 --(
PR.com
)-- During a state visit by the Dutch government to Iran, in the presence of the Iranian Minister of Energy, Mr. Chitchian, and the Dutch Minister of Infrastructure and the Environment, Ms. Schultz – Van Haegen, the Dutch company Global Renewables Investments B.V. signed an agreement to build Wind & Solar Parks in Iran with an initial investment expected to be in the region of €90 million.
Though economic sanctions have been partially lifted, foreign investment, thus far, has been scarce. However, with Iran committed to the 2015 Paris climate deal, offering incentivised, large scale renewable energy opportunities, Global Renewables Investments is confident that, adding Chinese excellence in the fields of engineering, construction & technology and their Dutch business ingenuity, bankable renewable energy projects can now be delivered.
Working with local Iranian partners Sheedsun, Energy Pak Soroush Hormozan, Lalehaye Khonin va Isargaran Khaf, the German company Greenmatech and Chinese EPC partner SUMEC, Global Renewables Investments co-founders Gerben Pek, Mohssen Poteratchi & Shelim Islam declared:
"Doing business in Iran calls for a collaboration of open minded, international commercial partners that possess the necessary skill sets and integrity to succeed. With its huge market potential and warmth towards the international business community we are convinced that Iran is on the brink of becoming one of the great success stories."
Contact
Global Renewables Investments B.V.
Gerben Pek, Co-founder
+31 622 176 118
www.globalrenewablesinvestments.com

Contact