Badger Truck Center Welcomes Paul Jacklin, Used Truck Manager
Badger restructures pre-owned vehicle equipment division to focus on customer solutions.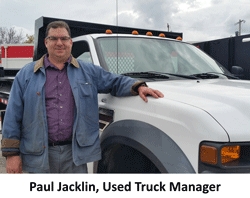 West Allis, WI, November 01, 2016 --(
PR.com
)-- Badger Truck Center, a family-owned commercial truck dealership, welcomes Paul Jacklin as its new Used Truck Manager.
Ray Pannemann, General Manager of Sales at Badger Truck Center stated, "We are excited to welcome Paul and are looking forward to his ideas on expanding into new markets while continuing to provide our current customers with the vehicle solutions they need. He will focus on reviewing and expanding our inventory as well as marketing to customers, making them aware of our growing line of products and services."
In this position, Jacklin will be responsible for managing the entire pre-owned division. He will oversee and manage all the workflow processes, sales team members and inventory while engaging customers in a smooth buying experience.
Previously, Jacklin owned and operated L.B. Jacklin, located in Slinger, Wisconsin. "My training and experiences within the truck industry have given me the knowledge and background to excel in this industry. As a small business owner, I did everything from purchasing equipment, managing the books, selling our products, and everything in between. My favorite part of the job was working with my customers directly and providing the vehicles and equipment that made the most business sense for them." Jacklin continued, "With the constant changes in our industry, I feel that I am uniquely qualified to run this division. Badger Truck Center is a full service dealer, I am excited to work with existing Badger Truck customers as well as new prospects."
About Badger Truck Center
Badger Truck Center, celebrating more than 50 years in business, is a second generation, family-owned dealership with locations throughout southeastern Wisconsin. Badger started its business with the Ford franchise, and has expanded to include Isuzu and Chrysler, Dodge, Jeep and Ram. Additionally, Badger Truck has expanded its line of businesses to provide complementary services to its customers; Quick Lane Tire and Auto Center, Badger Truck Equipment and Badger Rebuild. Badger's philosophy of teamwork, integrity, and open communication with customers ensures high quality equipment at the best value. Headquartered in Milwaukee, WI, Badgers services customers in throughout Wisconsin and Illinois. To learn more, visit badgertruck.com, or call 414-344-9500.
Contact
Badger Truck Center
Christine Duncan
414-344-9500
www.badgertruck.com

Contact