Metal Roofs of Texas Recognized at METALCON Triumph Awards; Owner Josey Parks Receives Young Movers and Shakers Award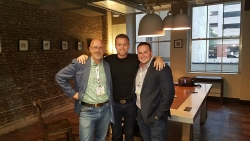 Fort Worth, TX, November 01, 2016 --(
PR.com
)-- Metal Roofs of Texas Owner & President, Josey Parks was recognized at the METALCON Triumph Awards last week Wednesday, receiving the Young Movers and Shakers Award. This award recognizes young leaders in the metal construction or building industry who demonstrate excellence, creativity, and initiative, while also serving as role models for young men and women, both personally and professionally.
"At 28 years old, Josey Parks exemplifies the qualities that the Young Movers and Shakers Award aims to recognize. He is a successful businessman, incredible leader, and solutions-oriented visionary who is always innovating to improve our industry," says Mark Taylor, Vice President of Metal Roofs of Texas.
Josey has drawn attention for his early success from national media, including a feature on CNBC's Blue Collar Millionaires. As a guest speaker at events such as the 2016 Vistage Executive Summit - the largest gathering of CEOs in Dallas history - Josey shares strategies for maintaining competitive advantage in an ever-evolving business climate with the aim of achieving growth and optimizing customer experiences. He is also dedicated to helping young people achieve their professional goals both in his companies and through local community outreach. Through involvement with organizations like Heartworks, which encourages young people to create and raise funds for community projects internationally, Josey also aims to make an impact on a global level.
"I am very proud of this award and regard it with special significance because it comes from the industry that I have dedicated my career to. I appreciate that MCA assesses not only our financial accomplishments, but our efforts to better those around us as well. I look forward to working with other leaders to continue advancing our metal construction and building industry in the coming years through innovative strategies and smart application of next-generation technology."
About Metal Roofs of Texas: Metal Roofs of Texas is a leading residential metal roofing company based in Fort Worth, built on dedication, professionalism, and genuine care for its customers. MRT's team of highly trained experts provide top-quality metal roofing services and products to homeowners throughout the state of Texas. Specializing in advanced installation techniques and thick, durable, beautiful, EnergyStar® rated metal roofing, MRT products are resistant to hail, high winds, and fire and are guaranteed for life.
www.metalroofsoftexas.com
Contact
Metal Roofs of Texas
Melis Steiner
817-330-0460
www.metalroofsoftexas.com

Contact