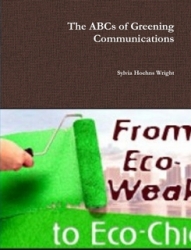 Richmond, VA, November 01, 2016 --(
PR.com
)-- The Wright Scoop – Sylvia Hoehns Wright, challenges Central Virginia Nursery and Landscape Association (CVNLA) to communicate the eco-sustainability of their products and services. Supplied by some of the best Industry marketers, Wright's research provides a step-by-step process which outlines strategies proven to avoid loss of market share while placing emphasis on "how to" communicate eco-sustainability of products and services.
Wright Scoop's Challenge -
As a workshop instructor for the National League of Cities conference held in Washington DC, when Wright challenged conference attendees – congressmen, city mayors, county managers, city/county planners and educators - to identify "greening" in their communities, she did not anticipate the response. No one could identify their community's eco-leaders, a response that should be viewed as a wake-up call for USA Industries as a whole. So, through gathering Industry data through interviews, distribution of an Industry survey and interactive columns, Wright researched and launched a book – The ABCs of Greening Communications – which explores the relationship of planet, people, and profit as critical factors which impact products and services, not simply eco-sustainable but leading edge branded images more easily identified by consumers.
Having taught communications for the Virginia Community College (VCC) system, Wright dedicated her published works to the "late" Leonard O. Morrow, PhD, retired botanist and horticulturist. Morrow a former dean of horticulture for VCC describes her research, "As a former educator, I've observed as Wright emphasizes, an image – brand must be relevant, avoid loss of market share through attrition, while placing emphasis on eco, greening, aspects of the product or service provided."
Central Virginia Nursery and Landscape Association (CVNLA)–
The goal of CVNLA members is to work together to provide the best in horticultural products, services, and education for Central Virginia. Specifically, CVNLA strives to provide activities intended to enhance the efficient and economic progress of the industry and apprise the public of its scope and character. Scheduled November 8 @ 6:30 pm - 8:30 pm and held at 1800 Lakeside Avenue Richmond, VA during a members and guests meeting Wright will challenge attendees to communicate the eco-sustainability of their products and services. To learn more about the organization or RSVP for their November meeting, phone 804-640-6849 or email welv.trz@verizon.net or visit web site www.cvnla.org.
About the Wright Scoop -
A former career strategies columnist for the Greater Richmond Partnership's Work magazine, Wright has broaden the scope of her communications research to include arts/literary and the Green Industry. As a communications personality, she has appeared on WTVR Channel 6 TV, FM 97.3 Inspiration Corner, WCVE PBS Richmond Channel 23 TV and Channel 35 TV Author's Review. She is published by The Office, Data Management, Your Computer Career, Green Profit and Today's Garden Center magazines, Richmond Times Dispatch and Mid-Atlantic Grower newspapers, and VA BBB & Information Executive newsletters; and has blog for Build Green TV and VA's Plant More Plants program.
A graduate in BS Management of Communication Systems at VA Commonwealth University (VCU) and participate in MS Special Studies at VCU, Wright is a graduate of the VA Natural Resource Leadership Institute program sponsored by UVA and VA Tech. To view details of her publications, visit Sylvia's book store,
http://www.lulu.com/spotlight/syhwright
or web site www.TheWrightScoop.com .
Side Bar: The ABCs of Greening Communications ISBN9781329991101, Copyright Sylvia Hoehns Wright (Standard Copyright License), Edition First Edition, Publisher LuLu.com, Published March 30, 2016 Language