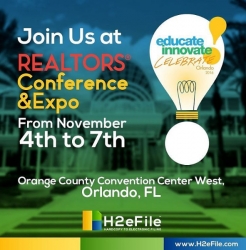 Miami, FL, November 03, 2016 --(
PR.com
)-- The one-million-plus real estate brokers and agents in America use different solutions for transaction management. H2eFile, a product developed by a Miami based company, is a unique cutting edge software created exclusively to comply with the rigorous filing system, needed and mandatory, in the US Real Estate Industry.
"H2eFile has been developed as a customizable filing system that allows any company to easily tailor it for their particular needs and own filing procedures," says Victor Flores, member of the technical support team of H2eFile.
H2eFile is a simple-to-use, fully integrated, real estate transaction management system which offers: easy management and task tracking, customizable workflow checklists and shareable real estate file storage – all in the cloud.
H2eFile launches November 4th at The REALTORS® Conference & Expo 2016 in Orlando, Florida. The real estate industry's pre-eminent gathering of the leaders in real estate and related technology organizations.
A key factor on the transaction management process is the constant filing which is a painful and tedious job. With H2eFile filing and document control is as easy as 1-2-3. "You can keep your customers happily informed and your real estate agents will be more than delighted with all the H2eFile features. They will not have to go back and forth to the office only to bring transaction's documents," says Flores. "When the Broker pays the commission he can be certain that all the required documents are completed and properly filed. Transaction files are secured and cannot be deleted. However, each Realtor® has access to view, print and e-mail the documents of his transactions, anytime, anywhere and from any device. H2eFile features a search option that allows searching files in seconds."
About H2eFile
H2eFile, based in Miami, Florida, is a Real Estate industry's Document Transaction Management Software. H2eFile offers subscribers one system to reduce operating costs and risks, boost efficiency and improve the overall filing experience.
Discover H2eFile online at
http://www.h2efile.com
.