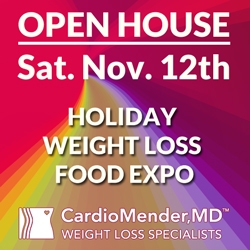 Pembroke Pines, FL, November 02, 2016 --(
PR.com
)-- It's a common misconception that people with active, outdoor South Florida lifestyles are immune to weight gain. Gaining weight over the holidays is a problem no matter where you live. Overeating or eating calorie-packed foods is a problem for everyone. But this time, when the holidays come around, it can be different; weight gain doesn't have to be part of your holidays, again!
Local weight-loss guru and Cardiologist, Dr. Barry H. Schiff, along with Internist, Dr. D. Allen Young and the entire CardioMender, MD Wellness and Weight Loss team will be hosting, for the South Florida community, "How to celebrate and STILL lose weight!" Open House and Holiday Food Expo. It will be held on November 12th from 1:30 PM to 4:30 PM at the CardioMender, MD Weight Loss clinic in Pembroke Pines, and the public is welcome.
This Open House event features all new holiday, but also any day recipes, products and ideas on how to lose weight safely and effectively while celebrating the holiday season. Dr. Young and Dr. Schiff have been creating and publishing new recipes and sharing them on CardioMenderWeightLoss.com for years. Now they're letting you taste them along with their latest creations. Knowing what to choose and/or prepare is a critical part of weight loss success, and often people don't have the opportunity to taste new recipes until trying them in their own kitchens. This event gives anyone interested in weight loss techniques the opportunity to come in and try recipes and products the doctors develop and recommend to their patients who want to celebrate and enjoy what they eat, lose weight and keep it off.
The Open House will also provide information and discussion on a one-on-one basis with our experienced team members so you can learn the philosophy and approach used by CardioMender, MD and see why this evidence-based program is so successful for safe, rapid, sustainable weight loss.
This Holiday Weight Loss Food Expo will be debuting new proven weight loss products and solutions. The CardioMender team believes these will be trending in 2017 and the products you'll be hearing about in the news and on shows regarding weight loss. Be one of the first to learn about the new ways to keep your cravings under control and your meals delicious. You'll be able to sample actual dishes right there in the Pembroke Pines office. Items that are going to be available for tasting are: Eggnog, Appetizers, Turkey with Stuffing, Roast Pork, Holiday Seafood Pasta, Latkes, Salmon Crostini, Smashed "You won't believe their not Potatoes," Holiday Greens, Doc's Desserts, New Year's bubbly and more!
A medical leader who has practiced both Cardiology and Internal Medicine in the South Florida community for almost 30 years, Dr. Schiff has served as both the Chief of Staff and the Chairman of the Department of Medicine for Memorial Hospital Pembroke in Pembroke Pines, FL. Dr. Schiff's success in helping patients with sustainable weight loss frequently leads him to take many of them off their medications. Dr. Schiff was a Co-Founder of the University Heart Institute Cardiovascular Group in Pembroke Pines, FL, where he maintained his clinical medical practice for almost 30 years. He also served as the Managing Partner before leaving the group to dedicate his full time efforts to fighting obesity and its many medical consequences.
You will also meet Dr. D. Allen Young, a board certified internist and weight loss physician, who joined our team over a year ago. Dr. Young has made medically supervised weight loss and wellness his primary focus and passion, to be an alternative to a traditional medical approach for disease management, which focuses predominantly on medications and alternatives that don't address the root cause of medical illnesses such as Type-2 diabetes and cardiovascular disease.
CardioMender, MD's approach is distinctly different from what has become routine in medicine. Rather than focusing on alleviating symptoms with more and more medication, they focus on the root cause of the issue and how to eliminate it.
The event is open to the public and runs from 1:30pm to 4:30pm on Saturday, November 12th, at the Pembroke Pines location. For the full address and to RSVP, please visit:
www.cardiomenderweightloss.com/holiday-weight-loss-food-expo-open-house-on-saturday-nov-12th/
CardioMender, MD Weight Loss Specialists
17009 Pines Blvd.
Pembroke Pines, FL 33027
954-628-3802