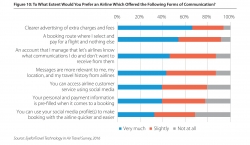 London, United Kingdom, November 03, 2016 --(
PR.com
)-- A major survey of UK air passengers has found that just over half of consumers find that price and convenience are the most important factors when they choose a flight, compared to 12.5% who put a premium on brand trust and just 4.6% who consider a loyalty programme key.
The study found further evidence of where airlines were falling short. Passengers emphatically told the survey that they would be more likely to book with an airline that had clearer advertising of fees and extra charges, with 94% of respondents reporting that they would prefer an airline that did this. The next most popular choices were for an airline that offered a booking route that allowed the passenger to book their flight and nothing else and then for an account that would allow consumers to choose and manage what communications they would receive.
The danger for airlines is that they will become viewed merely as commodities and not as individual brands, leaving them struggling to differentiate themselves and forced to compete on price alone. The survey also points to the possibility that customers will prove less willing to buy ancillary items, which has been particularly lucrative for airlines in recent years.
The white paper suggests that airlines should understand pain points for passengers and then seek to ease these so customers associate the brand with strong customer service. This can be done through better technology, data sharing, partnerships across the travel industry and focused communications. For example, the white paper found that nearly 60% of respondents would like to be informed of waiting times at check-in and security.
Relay42 CEO, Tomas Salfischberger, commented: "The survey shows a strong tendency towards control for today's passengers. Favoring technology that aids the search and booking stages in their journey – over the relevant delivery of offers and content – means passengers are wresting back autonomy over the buying process. In turn, airlines must shape their strategies around this."
You can read the full white paper and survey results here.