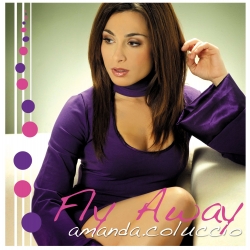 Los Angeles, CA, January 25, 2008 --(
PR.com
)-- As the Seventh Season of Fox TV's hit reality series American Idol begins dominating the airwaves this week, one of Season Six's most accomplished and gifted stars, 21 year old New Jersey-based singer / songwriter Amanda Coluccio, is back in the public eye as well, thanks to the successful release of her latest single, Fly Away, on iTunes.
This infectious new tune is just the latest benchmark in a career that just keeps getting hotter. A beautiful and accomplished performer who has received musical training since she was seven years old, Amanda's involvement in American Idol saw her not only getting selected as a Hollywood Finalist, but making it all the way to the final round as one of the top 30 female performers in the United States. Shortly after her Idol triumph, the enterprising Ms. Coluccio took the excitement to the next level by releasing Push N Touch, a provocative dance number that received press in everything from The Post Chronicle to TMZ.com
This engaging performer's outgoing personality and exuberant talent have since made her a regular staple in the mainstream media. Since her Idol appearance last year, Amanda has appeared on Larry King Live, The Today Show, The Fox News Channel, CNN News, and The Morning Show. She has also been a guest on numerous radio talk shows, including AM stations WABC and WOR in New York and FM stations Z100 and 94.3 the Point.
While Push N Touch was an impressive showcase for her talents, Fly Away, for which she co-wrote both the music and lyrics (with Nick Ditri of the Arkatone Music Group, the production company working with her on her upcoming EP), represents the ultimate maturation of her abilities as a musician. Though it can be categorized as pop with a strong R&B edge, the song manages to recall everyone from Mariah Carey to Christina Aguilera and R. Kelly without ever sounding quite like anyone but Amanda Coluccio. Fly Away is now available on iTunes.
For her part, this personable brunette beauty is justifiably proud of the new track, observing that "I'm thrilled the single is out on iTunes. This is a song I really had fun writing and recording, and I think that it comes across in what my fans will hear!" To learn more this exciting and charismatic new songstresses, visit her online at www.amandacolucciomusic.com
And don't forget to visit www.iTunes.com to hear the exciting vocals showcased on Fly Away. Mere talent is meaningless when it simply sits there waiting to be admired like a set of china plates, but every note Amanda Coluccio slings at you glows with vitality. Her music is usually festive and exuberant, and occasionally beautifully plaintive.
And it's always dazzling.
To learn more about Amanda Coluccio, visit AmandaColuccioMusic.Com.
written by:
Daniel Metcalf for DM/PR
###