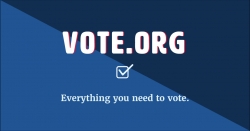 San Francisco, CA, November 08, 2016 --(
PR.com
)-- Earlier this week in Pennsylvania, there was a transit strike and the
Vote.org
team immediately knew that this could affect voter turnout in this critical state. Through social media, the Vote.org executive team got word of a popular campaign by
Crowdpac
that was gaining momentum and donations to provide free rides to the polls using either Lyft or Uber and wanted to get involved.
Today, Vote.org immediately redeployed their GOTV resources by texting 300,000 millennial voters (ages 18 to 35) in Pennsylvania, regardless of political affiliation, with a link including a code for a $15 coupon for a ride to the polls and $15 coupon returning from polls using either Lyft or Uber.
"What Vote.org is able to do is innovative and unique in the field, normally you can't redirect GOTV resources this quickly to deal with problems," remarks Brad Schenck, Vote.org's Head of Engagement. "That's how voter suppression efforts are so successful, by the time you can react or investigate the election is over, and we hope to change that with technology."
How to get a free ride with Uber or Lyft:
-Download the free Uber or Lyft mobile app on your smartphone (iOS and Android). You can download here: https://myridetovote.org/
-Use Lyft or Uber user code: VOTEPA to get a $15 coupon for ride to polls and $15 coupon for return ride from the polls
-Find your polling place: Vote.org/ppl
-Vote.
"Vote.org's mission as a non-partisan 501(c)3 nonprofit is voter registration and getting people across the country to vote," remarks CEO and Founder of Vote.org, Debra Clever. "With the transit strike, we wanted an alternative for voters across Pennsylvania and we are happy to provide a link for rides with Uber and Lyft to the polls on November 8th for any registered voter across the state."
*Update: Yesterday, it was announced that the Pennsylvania transit strike has ended, however, voters can still take advantage of this offer throughout the entire state to get out the vote.
About Vote.org:
Vote.org is a Y-Combinator backed non-partisan nonprofit organization that builds technology to increase voter turnout. Learn more at Vote.org.