Michigan's Property Restoration Service, ProRestore, Donates $3,000 to American Legion's Berkeley Post Towards Restoration Activities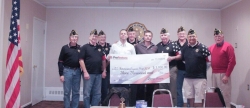 Oak Park, MI, November 13, 2016 --(
PR.com
)-- ProRestore, the round-the-clock property restoration service of Michigan, has announced that it is donating $3,000 in cash to the Stanley J. Fons Post 374, Berkeley, part of the American Legion in Michigan. The Post, which is currently facing financial hurdles, will utilize part of the money to provide food to a few hundred veterans on Thanksgiving, while the remaining amount will be used to continue its operations. ProRestore handed over the ceremonial check on November 11 at the Legion's board meeting.
The
ProRestore
team had visited the Post basement for treating sewage and water facilities and did repairs at actual cost and no profit. They also remodeled 80 percent of the basement at no cost. The total cost of work done pro bono was over $10,000.
ProRestore is a leading and professional property maintenance service, helping repair properties from minor damages to major re-building needed after natural disasters. It offers emergency services to residential and commercial spaces damaged by water, floods, fire, smoke, winds and storms. The team at ProRestore carries essential knowledge and training to bring about rapid reconstruction and repair. The service also provides environmental remediation, business continuity planning, and consulting and disaster planning.
The American Legion post at Berkeley was founded in 1946 and prides itself on serving veterans and communities as well as those in active service. The Berkeley Post began operations from its lower hall basement, which was used once by the Berkley Police Department for firearms practice. The Post added a lounge in 1968, and remodeled it in 2008. All Legion members receive discounts on hall rentals and the new lounge, which features eight plasma televisions and a great menu. The new building is equipped with fire sprinklers, and new electrical and plumbing installations.
The American Legion, chartered in 1919, is a non-profit, war-time veteran's organization with nearly 3 million members and 15,000 posts across the world. The donation to the Berkeley Post by ProRestore is a step towards helping it continue its operations towards the cause of assisting veterans.
Contact
ProRestore
Matthew Jordan
313 888 5868
prorestore.com

Contact