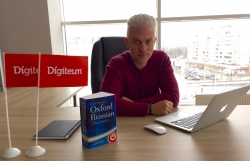 Daventry, United Kingdom, November 15, 2016 --(
PR.com
)-- On 18 October 2016 after the successful completion of the first phase of Oxford Global Language initiative and the issuing of two last dictionaries (Swahili and Hindi) assigned for this phase, Oxford University Press posted Digiteum on the board of OUP's official partners.
In 2014 Oxford University Press launched its Oxford Global Languages initiative to empower millions of people across the globe with digital lexical data in 100 of the world's languages and to make these languages available in digital form for free to everyone. Later in 2015 OUP invited Digiteum to collaborate on the project and develop digital solutions for dictionary conversion automation and unification. This is how
Dictionary Conversions Framework
(DCF) was developed by Digiteum.
Since DCF was actively involved into the implementation of the OGL initiative and the first phase of the project was completed, OUP in collaboration with Digiteum successfully issued 30 dictionaries in 18 European, African and Asian languages. This phase was closed up with the publishing of two new dictionaries, Swahili and Hindi. Later Digiteum together with other digital agencies working on the OGL project, were listed on
OUP official website
as official partners of the initiative.
As an active partner of OUP, Digiteum has been working on various projects apart from dictionary conversion system and data analysis. Among them are LEAP platform for data conversion, Research Track - annotation and record compilator for scholars and learners, and Oxford Mothership website for navigation among multiple Oxford Dictionaries websites.
Digiteum is proud to be announced as an Oxford University Press partner and to top up the number of
official contribution records
. As a Digital Technology Agency, Digiteum values cooperation and focuses on long-term collaboration with its partners and clients.
Contacts:
Digiteum, a Digital Technology Agency
+44 (0) 1327 317860
http://www.digiteum.com/
hello@digiteum.com
https://www.facebook.com/Digiteum/
https://www.linkedin.com/company/digiteum
https://twitter.com/Digiteum_US