Nate Boyer Teams with RP/6 at Rallying America Event
TA Group Hosts Fundraiser to Scale Veteran Transition Services Globally.

Bellevue, WA, November 18, 2016 --(
PR.com
)-- In honor of those who have served our country, and the men and women who have stood by their side through military service, RP/6 hosted an incredible event that brought together Seattle-area private sector leaders who have committed to serving our military and their families. Leading the charge was TA Group Holdings, Boeing, Starbucks, J. Bookwalter Winery, Prolitec and the Apex Foundation. The evening was a big success, generating more than twice the funds raised last year. The funds will be used to support transitioning veterans and their families.
A major highlight of the evening was hearing from Nate Boyer, former Army Green Beret and former long snapper for the Seattle Seahawks. "Nate engaged the guests in a way that embodied the true meaning of selfless service," said Anne Sprute, CEO, RP/6. "He focused not on his incredible personal story of drive and determination so characteristic of our military members, but on how our society has the opportunity to stand behind veterans like they do for football teams, and 'Be the Twelves' vets need to support their successful transitions to civilian life."
RP/6, headquartered in Lakewood WA, has been a leader in providing that support. Fully operational for 2 years, the non-profit scaled to 10 other cities across the country through a strategic partnership with the USO. Last evening
RP/6 announced they will join the USO officially
January 1, 2017, representing a new business line managing the USO's Global portfolio of military transition programs. Through innovation, hard work and a community of supporters, RP/6 will now expand the model within the global enterprise of the USO – all being led by a team of veterans and military spouses, right here in our PacificNW backyard.
"TA Group is incredibly proud of RP/6 for seeing a big need and stepping up to fill it," said John Sercu, former Army Ranger and CEO, TA Group Holdings. "
Anne had a vision for improving transition
, and rallied those around her to ensure that vision not only became reality, but will scale globally."
About RP/6
RP/6 specializes in connecting service members, veterans and their families to valuable resources so they can develop a clear plan to take charge of their transition from military service. rp6.org
TA Group is a veteran-owned company that partners with emerging business leaders and provides mentorship, shared operations and scalable process to them in order to grow them to the next level of success and profitability. tagroupholdings.com
Contact
Direct Technology
Sheryl Tullis
425.460.9392
tagroupholdings.com

Contact
Multimedia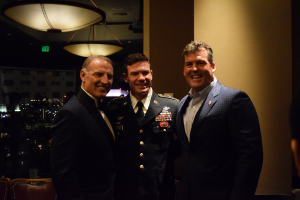 Nate Boyer with Master of Ceremonies John Sercu (CEO, TA Group Holdins) and Auctoneer Rick Nelson (CEO, Direct Technology)