Justification Truths Asks Lets Talk Don't Shoot
Justification Truths is all about getting people to stop and talk and not shoot. The aim of the message is to Talk and Not to Shoot and to save lives.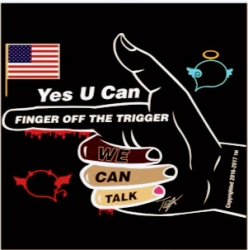 Laurel, MD, November 22, 2016 --(
PR.com
)-- Justification Truths Asks, "Let's Talk, Don't Shoot!"
Justification Truths has always been interested in improving upon the simple everyday things that affect our daily lives. The company has been actively researching the daily crime reports of lives needlessly being lost due to people with short tempers killing with guns. The mass media broadcasts every day about who was shot and so the company just had to do something about saving lives by making people just stopping to think.
There have been too many disasters of lost lives that affect families, communities and countless others. Justification Truths hopes that society will stop and think before accepting not only the results of news accounts of shootings, but will begin to take part in educating others about stopping to think first before resorting to killing with guns.
The message "Let's Talk, Don't Shoot" has already reached many organizations, neighborhoods, religious organizations and businesses with a positive impact. Pastor Leonard Frieson, Jr., senior pastor of a local Gambrills, Maryland church recently committed to assist Justification Truths' mission to bring gun violence awareness to the community of youths serviced in Gambrills. The pastor believes that youth need to be encouraged and agrees with Justification that there is a better way and gun violence is not the answer - that talking is a better way.
Contact
Justification Truths (Lets Talk Don't Shoot)
Tyrone Anthony
(301) 237-3250
letstalkdontshoot.com

Contact