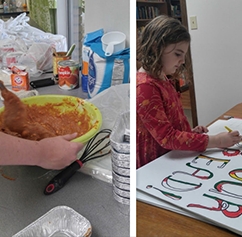 Grapevine, TX, November 29, 2016 --(
PR.com
)-- Makarios Community School is the first and only democratic free school in the Dallas Fort Worth metroplex. The school has received a promise from a generous donor who will match funds up to $50,000 on #givingtuesday, November 29, 2016. Donations will support an increase in staff salaries and benefit the students by providing scholarship funds, playground clean up, and learning materials. Students and staff are giving back to the community by organizing and managing a bake sale at Makarios Community School, located at 1105 West Wall Street Grapevine, TX. Students will also be delivering homemade treats and visiting with senior citizens in the community on #givingtuesday. "We are so pleased that the students of Makarios give to the community. Their goodies for grannies is a sweet gesture to show honor to seniors that have spent a lifetime serving their own families," said Donella Cecrle, founder and administrator of Makarios Community School.
Makarios Community School is open to students ages 5 to 18 who travel from all parts of the DFW area. Day-to-day operation of the school is run by the democratic process using Parliamentary procedure in the weekly School Meeting and daily Judicial Committee. Students learn government processes, and gain leadership and public speaking skills by participating in these foundational activities of Makarios Community School. Students at Makarios Community School are learning democracy and leadership by living it. Makarios Community School Mission Statement We believe all students are free to direct their own education. We offer a community that provides the freedom and tools to pursue self-directed learning. We strive to provide a safe and supportive environment for students to experience both failure and success. Our mission is that students leave Makarios as lifelong learners with the confidence to make choices in pursuit of their unique interests and goals. Visit www.makariosschool.com to learn more.
For more information, contact Donella Cecrle at 682-422-6886 or donella@makariosschool.com.