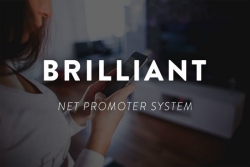 Boston, MA, November 29, 2016 --(
PR.com
)-- Brilliant, an integrated research service focused on simplifying customer development for small businesses, launched their Net Promoter Score service today, Brilliant NPS. The service marks the first offering from Brilliant, a company launched by former Runkeeper VP of User Experience, Tom Boates.
"We believe that customer development is the single most important part of building and launching a successful product or company, but all too often it gets bypassed or done poorly due to the fact that for many people it takes too much time or money to do it right. We want to change that and make it easy for small businesses to get to know their customers and their needs without sacrificing speed," said Boates.
Boates came up with the idea after witnessing first hand how difficult it was to answer behavioral questions about customer behavior in a timely manner at Runkeeper. "It's not that the research isn't valued, it's that the current cost, perceived or real, is too high and companies risk slowing things down in a world where speed is everything," says Boates. "It became clear that no company was really poised to offer the convenience of a self-service solution, with the trustworthiness of the data a larger research firm might provide."
While the company plans to expand into other types of surveys in the future, they felt there was opportunity in focusing solely on NPS first after examining the current offerings and noticing some shortcomings. Brilliant NPS sets a new standard for NPS survey management with:
• Focus on Accuracy. Competitors are email based which means opinions can change by the time users see the survey, and the mobile layout can be confusing or invite inadvertent button presses. Brilliant NPS launches surveys from within your app in a clean and simple UI to guarantee the most accurate results.
• Better Response Rates. Because the competition is email based, they are subject to poor response rates (~20% at best). With Brilliant NPS, integrated surveys get response rates of up to 50%.
• App Store Integration. With integrated surveys, Brilliant NPS makes sure to prompt your happiest customers with the option to rate your app in the app store ensuring your rating, and as a result your app store ranking, goes up.
For more information or to sign up, head to https://brilliantapp.com.
Media Contact: Tom Boates
Title of Media Contact: Founder/CEO
Company Name: Brilliant
Website: https://brilliantapp.com
Phone Number: (617) 982-3885
Email: info@brilliantapp.com
About Brilliant
Brilliant helps great companies collect and manage their Net Promoter Scores (NPS) using the incredibly powerful Net Promoter System. With Brilliant, surveys are integrated into your app or website which allows for better response rates (up to 50%), more contextually relevant responses, and the ability to ask your best and happiest customers to actually recommend your product right then and there.
About Tom Boates
Tom Boates is the former VP of User Experience at Runkeeper, and a veteran of several other startups in the Boston area. He has also spoken at several conferences in Boston and NYC, and has been a product design consultant for companies at all stages and sizes.