Pillar College Scores Olympic Coach to Head New Team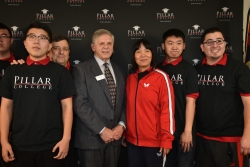 Newark, NJ, December 06, 2016 --(
PR.com
)-- US Team Olympic Coach, two-time Olympian, and Pan American Gold-Medalist, Lily Yip, is new the Head Coach for the Pillar College Panthers' Table Tennis Team (formerly Somerset Christian College).
Coach Yip led the US Table Tennis Team earlier this year at the 2016 Olympic Games in Rio and is a four-time US National Coach of the Year (2014, 2013, 2010 & 2004). According to TeamUSA.org, Coach Yip was inducted to the
USA Table Tennis Hall of Fame
in December 2004. Coach YIP also the Director of the nationally top ranked Lily Yip Table Tennis Center in Dunellen, NJ. Coach Yip's appointment as Head Coach coincides with the launch of the 106 year-old college's first collegiate sport as they are now part of the National Collegiate Table Tennis Association (NCTTA).
On Tuesday, a press Conference at Pillar College's Somerset Campus was held to publicly announce Coach Yip as the new Head Coach for the new Table Tennis Team. Pillar's president, Dr. David E. Schroeder, Ed.D., remarked: "According to the Olympics, Table Tennis has more participants than any other sport in the world! So, it didn't take much to convince us that this was the way to go. This adds even more value to our robust international student program which allows us the opportunity to impact more and more students each year."
President Schroeder went on to thank Vice President of Student Life Linda Schmitt, Assistant Coach Jim Hanlon, and Athletic Coordinator Bob Sanislo for their commitment to bringing this to fruition. When asked what her plans were for the Pillar College Panthers Table Tennis Team, Coach Yip replied: "We are going to make this a top team in this sport and we're going to keep our students focused on their education while we do it."
Contact
Pillar College
Kelvin Thomas
800-234-9305
pillar.edu

Contact