Odor Free RV Becomes Official Licensed Online Retailer for the Happy Camper Holding Tank Treatment
Hard time finding the Happy Camper holding tank treatment? Odor Free RV has set out to remedy that as the licensed online retailer for the product, managing multiple online sales channels.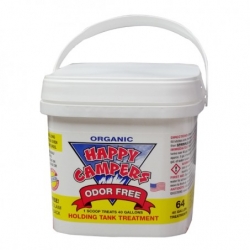 Medford, OR, December 15, 2016 --(
PR.com
)-- As popular as this product is in the RV community, Happy Campers tank treatment is not readily available in big box or retail locations. While many RV sales locations stock Happy Campers, most RVers purchase this product online.
With bulk distributor orders being processed directly through the manufacturer at www.happycampersworld.com;online retail sales will be fulfilled by Odor Free RV LLC, located in Medford, Oregon, just down the street from the manufacturing facility.
RV Odor Free is set up to streamline the process of fulfilling multiple online sales channels as well as making it easier for RVers to replenish supplies while traveling via their website
www.RVOdorFree.com
where most orders are processed same day and ship priority 2nd day.
What is Happy Camper Holding Tank Treatment?
For those unfamiliar with the Happy Camper holding tank treatment, this product is a 100% organic and biodegradable holding tank deodorizer. Happy Campers is unlike the majority of holding tank treatments on the market today in that it does not simply mask odors – it actually eliminates them.
The Happy Camper product is a completely unique treatment different than common chemical, enzyme, nitrate or Bioactive holding tank treatments. Happy Campers is a highly concentrated mineral; which works similarly to bioactive treatments to accelerate decomposition of waste and prevent odors from escaping.
In terms of value, the Happy Camper product is commonly compared to the popular DIY GEO-Method; which uses water softener, detergent and bleach. The down side of the GEO-method is the use of bleach; which is not good for septic systems or on seals. Happy Campers has also proven to be a very cost effective treatment averaging less than $.53 per treatment.
For RV travelers looking to replenish their supply of Happy Camper holding tank treatment or seeking an effective alternative to what they are currently using, just go to www.RVOdorFree.com
Contact
Odor Free RV
Paul Quinn
888-532-0123
www.rvodorfree.com/

Contact