Aaron L. Day Recognized as a VIP Member for 2016 by Strathmore's Who's Who Worldwide Publication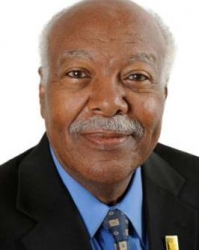 Long Beach, CA, December 30, 2016 --(
PR.com
)-- Aaron L. Day of Long Beach, California has been recognized as a VIP Member for 2016 by Strathmore's Who's Who Worldwide Edition for his outstanding contributions and achievements as an accountant, author, lecturer and volunteer.
About Aaron L. Day
Aaron L. Day is a self-employed Author. He has spent over 16 years writing books and articles, lecturing and teaching genealogy. He serves as a genealogist and family historian, and conducts research and family history for genealogy societies, middle schools, high schools, universities, libraries and senior centers. He is known as "Mr. Library" throughout Southern California for his lectures and volunteer work. He volunteers at the Long Beach Public Library, and in its over 50 year history, Mr. Day became the first and only African American male to ever sit on the Board of Directors of the "Friends of the Long Beach Public Library". He received the Mary Dell Butler Volunteer of the Year Award for the City of Long Beach, California for volunteering at libraries and the community in 1999 and has received 2 letters of commendation from First Lady, Mrs. Barbara Bush.
Mr. Day has published articles and written 7 books including "History Lessons Then and Now." He writes monthly newspaper articles for "Friends of the Long Beach Library" and the NAACP, Long Beach branch. He was featured in an article in the Press Telegram in 1992 and 2012. Mr. Day is the Former Vice President of the Questing Heirs Genealogical Society and is affiliated with the African American Heritage Society of Long Beach.
Born on December 4, 1939 in Xenia, Ohio, Mr. Day obtained an A.A. in Accounting from the Los Angeles Trade Technical College in 1975 and a B.S., Cum Laude, in Business Administration from the University of Phoenix in 1995. He was employed with Sunset House from 1964 through 1969, where he served as a Flexowriter Operator and eventual instructor. He then served as a Long Beach Parks and Recreation Commissioner. He is currently retired after 40 years in accounting. Mr. Day received the Dealer Award of Excellence from Alpine Electronics, for performance as an Accounting Supervisor in 1983.
In 1960, Mr. Day married Dorothy Lindsay and they have a daughter, Carla, five grandchildren and 6 great-grandchildren. In his spare time he enjoys family activities, the beach and the library.
"What is wrong with trying?
When we complete with others
We have learned that those who succeed
Give their very best.
So, what is wrong with trying.
By: Aaron Day, "What is wrong with trying?"
About Strathmore's Who's Who Worldwide
Strathmore's Who's Who Worldwide highlights the professional lives of individuals from every significant field or industry including business, medicine, law, education, art, government and entertainment. Strathmore's Who's Who Worldwide is both an online and hard cover publication where we provide our members' current and pertinent business information. It is also a biographical information source for thousands of researchers, journalists, librarians and executive search firms throughout the world. Our goal is to ensure that our members receive all of the networking, exposure and recognition capabilities to potentially increase their business.
Contact
Strathmore Worldwide
Susan Perrault
516-677-9696
www.strathmoreworldwide.com
Syndi Reibman

Contact