"La Ruta De Los Elefantes" – Feature Film Made Almost Entirely by Just One Person, Now Available
Spanish animation producer Pedro Alonso Pablos has released recently one of the first feature films almost entirely made by just one person, him, with the help of an actress for the female voices.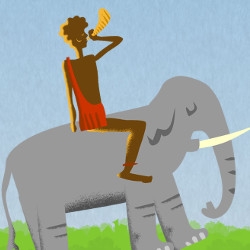 Madrid, Spain, January 09, 2017 --(
PR.com
)-- The film industry is changing fast due to the technology available. Today it is very easy to edit and shoot a short HD movie, and it is also becoming easy to create an animated piece of film.
Following this trend, Spanish animation producer Pedro Alonso Pablos has created one of the first feature films made almost entirely by just one person, him, helped by Rachel Mizpah, who has recorded the female voices. The film has been made with a traditional digital technique. As far as Pedro knows, there are a few feature films that have been made this way (almost entirely by just one person). One of them is "Killer bean forever" (2009), by Jeff Lee. According to IMDB this film features a crew of six people. The technique is being called "solo filmmaking."
The film, "La ruta de los elefantes" ("The path of the elephants"), tells the story of an elephant keeper who wants to travel to the mythical African elephants' graveyard, and helped with two poachers he will start the journey. The film represents an emotional and solemn fable, which will be enjoyed by 6 to 9 year old kids and by 4 to 12 year old kids in an extended scope. The film has been currently released on Amazon Video for the US with English subtitles, four months after the Spanish release through a known local VOD platform.
You can find all the information related to this movie at:
http://pliski.com/en/larutadeloselefantes/
Pedro Alonso Pablos (Madrid, 1979) is an animation producer and a TV presenter. In 2004, seven months before the appearance of Youtube, he directed, presented and produced a series of interviews to local and international movie stars like Santiago Segura, Álex de la Iglesia (successful Spanish directors) and Guillermo del Toro or Keanu Reeves. These interviews were distributed through his own website.
During the early 2010s he has started to produce animation films, particularly adaptations from Hispanic and universal novels and short tales like "El lazarillo de Tormes", and has recently released his first animated feature film, the one introduced here, with a technique that allows him to perform most of the operations needed to release an animated film.
Contact
Pliski
Pedro Alonso Pablos
+34 608029282
http://pliski.com

Contact