Veterans and Families Give Top Ratings to R4 Alliance Member Non-Profits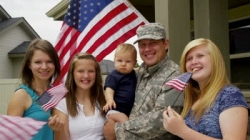 Sun Valley, ID, January 17, 2017 --(
PR.com
)-- National non-profit R4 Alliance announced today that a recent online scientific study of military veterans, their families, and supporters offered exceptionally high evaluations of member organizations' providing recreation and wellness programs.
"R4 has always set out to recruit programs of excellence," explained Bert Gillette, R4's Director of Operations. "These evaluation results affirm the level of quality services R4 members deliver to our veterans and their families."
Conducted over a period of approximately 16 months in 2015 and 2016, the study compiled results from online evaluations that program participants voluntarily completed following participation in member programs. "To have over 1,300 responses from clients that consistently give such high marks is rare, to have these results across multiple and diverse organizations is unheard of," said Gillette.
Jenni Riley, the R4 Alliance's Director of Development and Marketing, noted the consistency and high standards set by the participating programs helps the Alliance as it encourages member organizations to continue to deliver exceptional experiences for veterans and their families. "The great things that our organizations are doing for Our Military Families with non-pharmaceutical programs are finally being recognized. This study is just one of the ways that prove these organizations truly are programs of excellence."
Submitted evaluations indicated that nearly 60 percent of the participants in member programs were first time attendees. More than 83 percent of participants were men. Satisfaction was high for the evaluated member programs. When looking at the broad categories of quality of staff, quality of facilities and equipment, and quality of the program overall, R4 members scored 4.7 on a 5 point scale, with 5 being excellent performance. This indicated an overall level of excellence and quality among the programs, according to Gillette. To see a chart of the questions and results
click here
.
"This was our first effort to create an evaluation tool that could be used across so many organizations. We are thrilled at the success," Gillette said. The results from the survey will be used by the Alliance to create a baseline for all member organizations, and a standard that organizations applying for membership will need to meet.
"We know the amazing programs that are in our membership," said Riley. "This collaborative study shows the rest of the world that we are not the only ones that think so."
Gillette reports the study will help veterans receive better experiences in the future, as well as allow the R4 Alliance to better coordinate quality care among its member organizations. "Going forward, we are creating assessments for each of the service areas within R4 membership. This will help us dig even deeper gathering constructive feedback to drive the evolution of member services."
Jaimee Rizzotti, the R4 Alliance's Programs and Logistics Coordinator, created the evaluation and compiled the results. Noting that military service members are returning home following their service with a variety of physical and invisible wounds, she believes research of this nature is not only important, but needs to be followed by additional studies in the future.
"Thank you to all the service members and supporters who participated in this evaluation," Rizzotti said. "Understanding the fundamental importance factors will help guide program creation to better serve Our Military Family!"
About R4 Alliance
R4 is an Alliance of Programs of Excellence joining forces to better serve Our Military Family. R4 Alliance members go through a vetting process to become a Program of Excellence and are not only fiscally responsible but also represent initiatives founded on research, dedicated to recruiting, and committed to the veterans' reintegration back into society. Through education, collaboration and shared research and methodologies, R4 members become better equipped to provide services to those needing assistance. We strive to provide the resources, education and access to our Partner's services to ensure their success with these collaborative efforts.
Contact
R4 Alliance
Jenni Riley
(208) 316-6555
www.r4alliance.org
or jeannette@r4alliance.org

Contact
Multimedia
This is a graph showing the questions from the evaluation and the survey results.