SocksLane Launches New Anti-Allergic Compression Socks on Amazon.com
SocksLane, announces the release of a new revolutionary support sock rich in natural cotton fibers to help people prevent allergies and enjoy a better quality of life.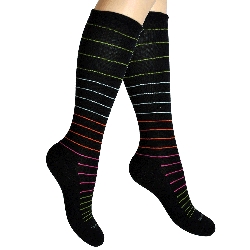 Portland, OR, January 17, 2017 --(
PR.com
)-- SocksLane, the leading developer of anti-allergic compression garments, announces the release of a new revolutionary high quality combed cotton support sock.
The hose, specifically developed for individuals who, be it by choice or because of particular conditions, prefer to wear natural fibers in contact with their skin, and are manufactured by SockLane to help people enjoy a better quality of life.
Allergies and rashes are common complaints by Americans wearing compression socks to relieve leg tiredness or varicose veins, prevent blood clot and to improve their performance or recovery.
According to recent statistical studies every year tens of thousands of Americans suffer from different degrees of rashes due to synthetic garments that more often than not lead to allergic reactions, some of which become chronic.
Individuals standing or sitting for long hours every day such as nurses or police officers as well as people who have certain lower leg conditions like diabetics and pregnant women; can benefit from the regular use of compression socks to aid peripheric blood circulation. The problem is that such garments, worn for long periods can irritate the skin and lead to hypersensitivity.
Dave Dixon, co-founder and CEO of SocksLane, stated in a recent interview, "Our compression socks offer all the benefits of a high-quality traditional compression garment with the added benefit of containing 65% natural combed cotton and high-quality anti-allergic stretch material. This exclusive combination reduces the possibility of discomfort by over 90% compared to a traditional nylon sock, giving users complete peace of mind regarding skin reactions allowing people to safely wear their compression socks for much longer thus increasing their effectiveness."
The newly launched product comes in 2 different sizes and soon in many more stylish designs and colors. They are naturally anti-allergic, breathable, strong and easy to put on for maximum comfort and durability.
These socks can be purchased on the manufacturer's website: www.sockslane.com or directly on Amazon.com/dp/B01MRKD0PQ
Contact
SocksLane
Amanda Dixon
503-568-1586
SocksLane.com

Contact