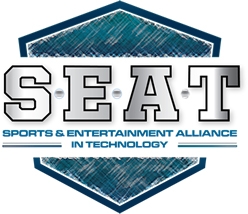 Scottsdale, AZ, February 01, 2017 --(
PR.com
)-- Sports & Entertainment Alliance in Technology published the first SEAT Global Magazine of 2017 on Friday, January 27. The new year brings a monthly format as opposed to the quarterly issue originally debuted last winter. It is the only digital magazine featuring peer to peer content with a focus on the world of sports technology.
SEAT Global Magazine reflects the premise of the annual consortium, itself. "Sports teams and organizations are constantly striving to make best use of new and exciting technologies to help with everything from players' performance on the field to enhancing the fan experience," said Christine Stoffel, founder and CEO of SEAT. "SEAT is founded on a community of technology professionals around the world showcasing their endeavors and the forward thinking of some of the most innovative technology companies around."
The January issue is focused on technology as it relates to fan engagement, digital marketing, CRM, Wi-Fi, data security, venue security, and mindful leadership strategies. Each month will highlight industry leaders in one-on-one interviews; this month, SEAT sat down with Dewayne Hankins, CMO, and TJ Ansley, Director of Digital Experience, from the Portland Trail Blazers (NBA). The Baltimore Ravens (NFL) also submitted a case study highlighting the new high-density stadium Wi-Fi and how it enhances the game-day experience for the more than 70,000 fans in their stadium.
Since its launch in February 2016, the magazine has debuted articles outlining Tennis Canada's launch of the Rogers Cup app, the opening of the NBA's state-of-the-art replay center, Super Bowl 50's innovative camera angles, and the Premiere League clubs making the biggest impact on Twitter.
For companies looking to increase their profile across the sport and entertainment industry, advertising opportunities are available for the magazine that reaches a target-rich market of more than 11,000 technology professionals.
The January 2017 issue and past issues can be viewed at
seatconsortium.com/seat-global-magazine
.
About SEAT
The Sports & Entertainment Alliance in Technology was established in 2006 by Christine Stoffel of Scottsdale, Arizona while she was Vice President of Technology & Strategic Operations for the Phoenix Coyotes. SEAT was founded as a two-day consortium focusing on connecting professionals and executives in the sports and entertainment industry. It is the only peer-driven industry conference in the world and prides itself on being the only gathering that all five major US leagues attends. The conference has expanded into an international exhibition with upcoming events for the British, American and Asian Pacific markets. For more information, please visit
www.seatconsortium.com
.