How to Change Your Attitude and Waistline When You Can't Change Your Situation
The Mind Body Synergy "Diet" identifies fundamental principles in both Ancient and Current Research, providing a Practical System for Mastering Mindfulness and Weight Loss. There are just Six Habits, implemented in 30 days, including over 60 healthy and delicious recipes by well-known Chefs and Nutritionists. Refined and tested over 18 years, this program has thousands of success stories.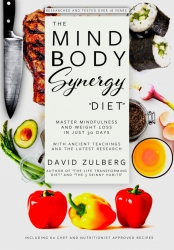 New York, NY, February 01, 2017 --(
PR.com
)-- The culture we live in promotes the belief that a "skinny" or "ripped" body is a means to the coveted ideal of happiness. Most diets ignore the mind although your physical health depends on it. Depression can lead to death, anxiety damages the body, and sadness or stress often leads to overeating. Even simple bad eating habits are enforced in the subconscious mind so that losing weight is more dependent on behavior modification and a change in perception, than just a change of diet or exercise.
If you treat the mind or the body alone, it will have some sort of spillover effect and the one will impact the other. But when you focus on both mind and body simultaneously, you create an almost magical "synergy," causing a greater impact than if you treat them separately.
The reciprocal relationship between mind and body was known to many of the great physicians and philosophers through the centuries, like Hippocrates (460-370 BC) and Maimonides (1135-1204). Of late, modern psychology and nutritional science are taking a renewed interest in the ancient perspectives on happiness and weight loss.
The Mind Body Synergy "Diet" (ISBN: 0-9984763-0-7; January 2017; $11.99; 163 pages), identifies fundamental principles in both ancient and current research, providing a practical system for mastering mindfulness and weight loss.
Inspired by his own weight loss struggles and life challenges, author David Zulberg refined and tested this program over 18 years, with thousands of success stories.
Practical guidelines for managing stress, anger, break-ups, loneliness, altering your perception, and mindful eating are interwoven into a step-by-step method for changing your meals, snacking, and exercise habits. The concept of "Subconscious Habit Formation" is introduced with a realistic method for unleashing its power. You will learn how to break the cycle of addiction, make new healthy habits stick, and start a down to earth program of meditation and mindfulness.
Zulberg's plan has just six habits, implemented at the right pace. You add one new habit every 5 days, for 30 days. That's it. Four habits relate to your diet, one habit to fitness, and one habit to mindfulness. There are also over 60 healthy and delicious recipes, with beautiful images, by well-known chefs and nutritionists.
On The Mind Body Synergy "Diet," your pounds will automatically fall off and you will notice a positive shift in perception, no matter what life throws at you. It is not because you are actively seeking these results but as an expected consequence of reclaiming your born right to be in touch with your natural instincts – a mind body synergy.
About Author:
David Zulberg holds a MS from Columbia University and is considered one of the foremost experts on Maimonides's medical and philosophical works. He is a certified ACE health coach and fitness specialist who is the author of The Life Transforming Diet (Feldheim Publishers) and The 5 Skinny Habits (Rodale Publishers). David has been featured on national television and writes for popular online and print media outlets. Born in South Africa, he now lives in New York.
Key topics include:
* How ancient medical writings can help you lose weight and get fit in this day of fast food lifestyles.
* What quitting smoking can teach you about quitting sugar.
* Why animals in their natural habitat and 3 year olds naturally stop eating after satiation.
* How to change your diet and start exercising with just six simple new habits.
* The difference between cravings and hunger (and why it matters).
* How to change your mindset when you can't change your situation.
* Simple ways to start mindful eating at your meals today.
* How eating habits are interlinked with your subconscious mind.
* Learn how to deal with loneliness and breakups so they become a stepping stone to finding yourself.
Contact
David Zulberg
212 464 7524
davidzulberg.com/

Contact