Life Fibre with SISE T-Shirt Collaboration Launches with SISE's AW 2017/18 Collection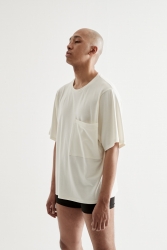 Tokyo, Japan, February 02, 2017 --(
PR.com
)-- Life Fibre Company (http://www.lifefibre.com) and SISE (http://sise.co.jp/) are launching a limited made-in-Japan capsule collection called Life Fibre With SISE LFWT (Life Fibre White T).
The collection consists of a total of 5 styles including designs developed based on SISE's popular Big T and Big Pocket T. It is a high-quality, sophisticated, street-style T-shirt collection developed by Seishin Matsui, a Japanese designer experienced in working with wool materials. The collection features environmentally friendly, machine washable wool jerseys created using Life Fibre Eco-Friendly Treatment (Life Fibre EFT), a completely new shrink-resisting treatment that prevents the loss of the wool's scaling.
Life Fibre EFT works by encapsulating the naturally hydrophobic surface of the wool fibres with polyamide through interfacial polymerization. This creates molecular binding between the wool fibre surfaces and the polymer, leading to better durability.
Products with Life Fibre EFT not only pass IWS TM-31-ISO6330-1984 standards for machine washability, but also tolerate the enzyme-based detergents often used for home laundry.
www.lifefibre.com
Contact
Life Fibre Company
Toshiya Inoue
+81-3-3662-6731
www.lifefibre.com
mayo.mimura@lifefibre.com

Contact