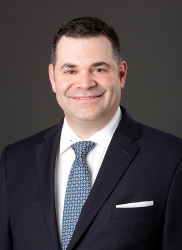 Columbus, OH, February 10, 2017 --(
PR.com
)-- OrthoNeuro announced today that Dr. Ralph J. Napolitano, Jr. will join their multi-specialty physician practice March 1st, 2017. This addition will expand OrthoNeuro's foot and ankle division to include additional surgical and non-surgical treatment options and wound care for the foot, ankle, and lower extremity.
Dr. Napolitano is a double board certified podiatrist who specializes in medicine, surgery and wound care of the foot, ankle and lower leg. He was the first podiatrist in the state of Ohio to earn the board certification Certified Wound Specialist Physician (CWSP). His areas of special clinical interest and research include: general podiatric medicine and surgery, wound care and healing, diabetic limb preservation and surgical limb salvage, digital joint replacement and preservation surgery in the foot, lower extremity dermatology and infectious diseases, custom foot orthotics, gait analysis and athletic shoe gear consulting, aesthetic podiatry and laser care.
"We are excited to offer podiatric medicine and wound care at OrthoNeuro," said Dr. Carl Berasi, President, and CEO. "Dr. Napolitano's exceptional reputation and expertise in his field will offer diversity in services for our foot and ankle division."
Dr. Napolitano graduated from Baldwin Wallace College with a Bachelor of Science in Biology with minors in Chemistry and Music. He earned his medical degree at the Ohio College of Podiatric Medicine in Cleveland, Ohio. He completed his residency training in Podiatric Medicine and Surgery at Heritage Valley Health System in Pittsburgh, Pennsylvania. Dr. Napolitano is board-certified in foot surgery and wound management, and a Fellow of the American College of Foot and Ankle Surgeons.
"I am very proud to be joining this prestigious group of specialty physicians," said Dr. Napolitano. "The addition of podiatry and wound care will compliment many of the services already provided at OrthoNeuro." His treatment philosophy is to educate his patients thoroughly about their problem and offer a comprehensive and holistic treatment plan both medical and surgical. "I believe healthy feet are the foundation for healthy living and will do my very best at all times to keep you active and moving along life's journey—whatever your interests and wherever your feet may take you."
Dr. Napolitano is now accepting new patients. He will treat patients at the OrthoNeuro New Albany and Pickerington locations starting March 1st. Dr. Napolitano has privileges at Mt. Carmel and Licking Memorial hospitals, New Albany Surgery Center, Pickerington Surgery Center, and Central Ohio Surgical Institute. To schedule an appointment, please contact OrthoNeuro at 614-890-6555 or visit the OrthoNeuro website at
www.orthoneuro.com
.
OrthoNeuro
OrthoNeuro is a multidisciplinary group of board-certified physicians specializing in orthopedic surgery, neurology, spine surgery, physical medicine and rehabilitation, and now podiatry and wound care. With offices in Downtown Columbus, Dublin, New Albany, Pickerington, and Westerville, OrthoNeuro is committed to providing patients throughout Greater Central Ohio with convenient access to an exceptional patient care experience.