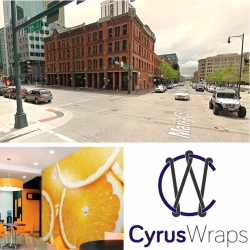 Denver, CO, February 18, 2017 --(
PR.com
)-- Cyrus Wraps was recently named one of the best vehicle wrap shops in the Denver area by Expertise.com, an online hub that ranks professional services by region. Cyrus Wraps was selected from a pool of 163 vehicle wraps shops in the Denver area after a competitive evaluation on five criteria: reputation, credibility, experience, availability and professionalism. Expertise.com noted Cyrus Wraps, which was among 19 Denver based vehicle wrap shops selected for recognition by the site, for their dedication to service and their ability to capture their customer's vision while designing unique custom vinyl wraps and murals for single vehicles, automotive fleets and wall spaces. The company's goals can be summed up by their mission statement to "provide the best service in the industry, second to none."
While the shop is known by locals for their vinyl car wraps for business and personal purposes, Cyrus Wraps can also design and fabricate vinyl building murals aimed at beautifying offices, restaurants and event spaces. They offer full service design, printing and installation of vinyl wraps, including fleet graphics and building murals throughout the Denver area. What truly sets Cyrus Wraps apart from their competition is their dedication to customer service by ensuring that clients receive the design and product of their dreams. The company's motto is to "display your brand, the way you want it perceived." Cyrus Wraps' staff takes pride in getting to know their customers, taking the time to ask detailed questions to ensure that specifications and expectations are met.
Cyrus Wraps also sets themselves apart from the competition through their focus on educating customers about vinyl wraps. Their Wrap Stats blog offers a variety of articles to inform potential clients about:
- The benefits of vehicle wraps.
- What to look for when choosing a company to provide service.
- How to get the biggest marketing impact out of your wrap.
- Frequently asked facts about car wraps.
- Pricing information on vinyl wraps.
In addition to resources available on their site, Cyrus Wrap representatives are available to meet for a consultation to determine the best design and product for customer's needs, vision and budget.
For more information about Cyrus Wraps contact 720.77-CYRUS or visit www.cyruswraps.com