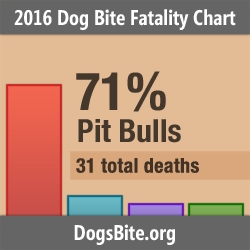 Austin, TX, February 21, 2017 --(
PR.com
)-- DogsBite.org, a national dog bite victims' group dedicated to reducing serious dog attacks, releases 2016 U.S. dog bite fatality statistics. Last year, dogs inflicted 31 deadly attacks. Pit bulls accounted for 71% (22) of these deaths, just over 7 times more than the next closest dog breed. The combination of pit bulls, American bulldogs and rottweilers contributed to 84% (26) of all deaths. 10 different dog breeds participated in lethal attacks in 2016.
View: 2016 U.S. Dog Bite Fatality Statistics - DogsBite.org
2016 Highlights - Dog Bite Fatality Statistics
In 2016, 42% of all dog bite fatality victims were either visiting or living temporarily with the dog's owner when the fatal attack occurred -- the highest percentage on record in the nonprofit's 12-year data set. Pit bulls accounted for 77% of these deaths. In 2016, 32% of all fatalities involved a dog or person new to the home (0-2 months). Of this subset, 70% were inflicted by pit bulls and children 9-years and younger accounted for 80% of these dog mauling deaths.
Annual dog bite fatality data shows that adult victims 30-years and older outpaced child victims in 2016, 58% to 42% respectively. Of the total adults killed by canines in 2016, pit bulls were responsible for 67%. Overall, female victims were greater in number than male victims, 52% to 48%. Among children ages 9-years and younger, male deaths were greater, 62% versus 38% and among adults 59-years and older, female deaths outnumbered males, 75% vs. 25%.
In 2016, dog ownership information shows that non-family dogs inflicted the majority of deaths, 55% versus family dogs 45%. Within the family dog subset, 86% were inflicted by pit bulls. In 2016, 61% of all dog bite fatalities involved more than one dog, up sharply from the 11-year average of 44% (2005 to 2015). In 2016, 35% of all fatal attacks involved 2 or 3 dogs and 26% involved a pack attack of 4 or more dogs, up from the 11-year pack attack average of 14%.
In 2016, only 6% (2) of all deadly attacks resulted in meaningful criminal charges; the lowest level ever recorded by the nonprofit. 2016 also marked the first appearance of the Belgian malinois in the nonprofit's 12-year data set, responsible for inflicting two mauling deaths. One case involved a police officer's "personal" dual-certified police K-9 killing a person and seriously injuring another. The former officer was charged with two felonies in February 2017.[1]
12-Year Highlights - Dog Bite Fatality Statistics
This year's release includes statistics from the 12-year data set (2005 to 2016). During this period, canines killed 392 Americans. Pit bulls contributed to 65% (254) of these deaths. Combined, pit bulls and rottweilers (43) contributed to 76% of the total recorded deaths. When mastiff-type guard dogs and war dogs are added -- the types used to create "baiting" bull breeds and fighting breeds -- this small group of dog breeds accounts for 84% (328) of all dog bite-related deaths.
This year's Discussion Notes section examines 2016 trends and the changing metrics since the last U.S. government study years of 1979 to 1998. The "single dog" metric as the primary inflictor of fatal attacks has shrunk from 70% to 54% between the two periods (1979-1998 and 2005-2016). Adults now account for more deaths than children as well. During the early period, children accounted for 70% of all victims. In the recent period, they accounted for 49% of all victims.
Discussion Notes - 2016 U.S. Dog Bite Fatality Statistics
In the "Changing Traditional Fatal Dog Mauling Metrics" part of discussion notes, the nonprofit discusses these changing metrics and provides side-by-side comparisons between the two periods with visual charts. The nonprofit also examines which breeds are killing adults the most. Of the 392 people killed by dogs from 2005 to 2016, 51% were victims 10 and older. Pit bulls were responsible for 71% of these deaths versus all other breeds combined, 29%.
More Materials Available
Multiple charts and graphics are available on the 2016 U.S. Dog Bite Fatality Statistics web page and the adjoining discussion notes blog post, including charts of the 12-year data set broken down by breed, year and age groups. Later this year, the nonprofit will release a more complete analysis of the 12-year data set. The group continues to research and compare existing baseline statistical data from the early government study years to the modern 12-year period.
[1]"District Attorney Files Felony Charges In Grover Beach Dog Mauling Case," San Luis Obispo County District Attorney's Office, February 2, 2017 (www.slocounty.ca.gov)
About Us
DogsBite.org is a national dog bite victims' group dedicated to reducing serious dog attacks. Through our work, we hope to protect both people and pets from future attacks. Our website, www.dogsbite.org, was launched in October 2007 and contains a wide collection of data to help policymakers and citizens learn about dangerous dogs. Our research focuses on pit bull type dogs. Due to selective breeding practices that emphasize aggression and tenacity, this class of dogs negatively impacts communities the most. Our website hosts important dog bite studies, U.S. dog bite fatalities and other key bibliographies. In the Legislating Dogs portion of our site, we offer examples of breed-specific laws (state-by-state) and documentation of the constitutionality of these laws. The Victim Realities section provides a glance into the unforgettable histories victims leave behind and much more. DogsBite.org operates out of Austin, Texas and can be contacted via: 512-650-8510 or press@dogsbite.org. Research contributions and active website participation stems from individuals that span the United States of America and across the world.