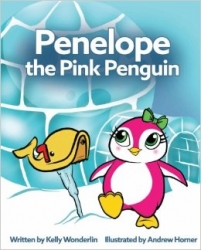 Austin, TX, February 23, 2017 --(
PR.com
)-- Penelope wakes up every morning filled with happiness and joy. One day she gets teased for being pink and doesn't feel beautiful or confident with how she looks anymore. When Penelope realizes that it's okay to look different than others, she feels beautiful again.
Buy Now
Kelly Wonderlin is a first time children's book author who created the "Penelope the Pink Penguin" series. Kelly's inspiration for Penelope came from valuable lessons she learned growing up. Kelly wanted to instill confidence in her own daughter and carry on a message of loving yourself and finding beauty within yourself.
About the Author:
Kelly resides in Austin, Texas with her husband Mark Wonderlin, their 2 year old daughter, Avery and her 8 year old step-son, Chase.
Please check out her book today.