Two Out of Three Dentists Are Not Wealthy
When asked if they consider themselves wealthy, two out of three dentists said no. Though the average dentist's salary is high, so are the costs of getting a dental education and running a dental practice.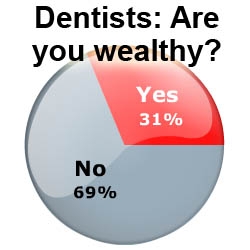 San Francisco, CA, February 06, 2008 --(
PR.com
)-- Dentists are commonly perceived as wealthy. In this survey, The Wealthy Dentist asked dentists if they consider themselves wealthy - and two out of three dentists said no, they are not in fact wealthy. "While my income may be in the top 10% of wage earners, my debt is high, and it is a struggle to fund my retirement goals," wrote one dentist, echoing the feelings of many respondents.
Many dentists pointed out how expensive the profession can be. "One of the most frustrating things about dentistry is the enormous financial investment one must make to first complete a dental education and then later to start up a practice. As much as I love dentistry, I am not sure I would choose this path if I had it to do over again. Many other fields are more lucrative without the same financial investment," commented a California dentist. "Educational costs are very high and borrowing money for a private practice is an enormous amount of debt," agreed a South Carolina
orthodontist
.
Some respondents care more about financially comfortable than accumulating vast amounts of wealth. "I consider myself 'wealthy' only in the sense that I worked extremely hard for 25 years to pay my debts, taxes and not be a burden on society from here on out," said one Minnesota dentist. "I have a great wife and son. I am healthy. I still have goals to achieve, but I want for very little. My only expenses are day-to-day living and my home mortgage. Unfortunately I feel many think their 'wants' are their 'needs,'" commented a North Carolina dentist.
Some dentists admit they're not currently wealthy. "I'm not wealthy yet, but I am well on my way to one day being there!" wrote an Ohio dentist. "I'm 52 and I make a good living now, but I lived paycheck to paycheck until I was 40. I'm still short on my retirement funding and don't plan to retire until age 65 or so," said a Virginia orthodontist.
Other dentists are delighted to be wealthy. "Statistics show that dentists average about $180k/year, putting them in the top 5% of earners in America. I personally earn more than that and am comfortable in my lifestyle and prospects for a secure retirement," said one pediatric dentist. "I retired 4 years ago with a net worth of $4.5M and live half the time in Hawaii now. A lifetime of saving and time are the secrets to wealth," shared a retired Tennessee dentist.
Of course, different people have different definitions of wealth. "Bill Gates is wealthy," said one Arizona prosthodontist. "I am not wealthy when compared to my social peers, but I am viewed as wealthy by my staff and family. Wealth is a very relative term," acknowledged a Delaware dentist. "Wealthy should, in my opinion, be defined as more than a million dollars a year in net positive cash flow," opined a Georgia dentist.
No matter how high their incomes, many dentists report feeling trapped by their financial obligations. "I just purchased a practice, and my school debt exceeds $200k. Now I have to purchase the building of the practice for $600k, and I purchased a home... So the debt load is enormous in the beginning. Oh yeah -- then add 2 kids to the equation," wrote Vermont dentist. A Michigan dentist agreed, joking, "I owe, I owe, it's off to work I go."
Some bristle at the common perception of dentists as wealthy. "The idea that all dentists are wealthy is absurd," wrote a Minnesota dentist. "The public looks only at what they pay. They have no idea what it costs to run a dental clinic. Lab bills are $12,000 a month. Salaries are $20,000 a month. Add in equipment, rent, liability insurance, and of course, endless supplies, and now you have some very serious overhead. In reality, dentists must produce so very much revenue before they pay themselves that very few dentists are truly wealthy."
The slowing economy isn't helping dental practices' bottom lines. "The economic climate is such that income used for dental health care has been dried up," observed a Michigan dentist. "Economics effect everyone. Unfortunately, dentistry is perceived as a luxury," agreed a California dentist.
"A high income isn't the only requirement for wealth," said Jim Du Molin, dental consultant and founder of The Wealthy Dentist. "The economics of running a dental practice can be challenging, especially without a financial advisor. To meet their retirement goals, a dentist needs to really have a plan."
###
Visit http://www.thewealthydentist.com/SurveyResults/052-Are-You-A-Wealthy-Dentist-Survey.htm for additional information on this and other Wealthy Dentist surveys in the areas of
dental implants
, cosmetic dentistry, sedation dentistry, and dentures.
The Wealthy Dentist is a dental marketing and dental practice management resource featuring dental consulting expert Jim Du Molin. The site's weekly dental surveys and newsletters are viewed by thousands of dentists across the United States and Canada. The Wealthy Dentist is a sister company of the Internet Dental Alliance. IDA is the largest provider of internet dental marketing campaigns, dental websites, email newsletters and online find a dentist directories in North America.
http://www.thewealthydentist.com
Contact:
Jim Du Molin
http://www.thewealthydentist.com/contactinfo.htm
415-435-2820
###
Contact
The Wealthy Dentist
Jim Du Molin
415-435-2820
www.thewealthydentist.com/surveys.htm

Contact