Beauties of Age Photography Exhibit
Chicago, IL, March 04, 2017 --(
PR.com
)-- Opening Announced for Beauties of Age Photography Exhibit March 16 at Atrium Gallery, North Shore Senior Center, Norhtfield, IL
Chicago photographer Adeline Sides presents her latest project Beauties of Age with an opening Thursday, March 16, 2017 at the North Shore Senior Center, 161 Northfield Road, Northfield, IL. Chicago.
Reflecting upon the inevitable march of time, we see ourselves staging the third act of Life. The project focuses on how women fare in this existential drama. The subjects are an exceptional group of individuals who allowed Ms. Sides to photograph and write about them.
In youth, women are often seen as creatures of desire and praised for their physical attributes. As they progress through life, where do women find themselves and is the world still kind to them? What are women's secrets to staying youthful, vibrant, relevant and engaged in their communities? How does our perception of beauty change over time? Allow these images and stories to leave you with a sense of how women navigate through the Golden Years.
Admission is free. Opening reception and artist talk is at 1pm. In addition a panel discussion is held on Thursday April 6, 2017, 1pm. Show runs March 2 through April 27, 2017.
Media Contact:
Adeline Sides
(773) 398 – 3502
lydiaoma@gmail.com
http://adelinesides.com/
Contact
Adeline Sides Creative Photography
Adeline Sides
773-398-3502
adelinesides.com

Contact
Multimedia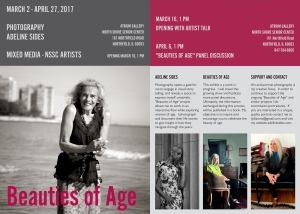 The "Beauties of Age" exhibit presents a reflection upon the inevitable march of time and focuses on how women fare in this existential drama by showing their images and telling their stories. In addition, the NSSC artists are honoring the same theme in their mixed media work. Key Events: Show i