Red Giant Entertainment Announces Major Restructuring Plans for 2017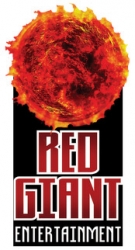 Orlando, FL, March 03, 2017 --(
PR.com
)-- Red Giant Entertainment Inc. (REDG), an innovative Intellectual Property company specializing in high quality characters and content for use in a variety of media and entertainment, announced a series of plans to overhaul and revitalize their business.
"We are retrenching," Benny Powell, Red Giant CEO stated. "We have been plagued by several issues, and spent the past several months analyzing solutions and developing a plan to move forward, change directions, and make major adjustments. This isn't simply a band-aid but, rather, a complete overhaul from top to bottom. These actions began with our recent 14c filing, which is just one in a series of cogs needed to become a profitable, revenue-producing company – which we believe we can achieve."
This top-down plan begins with Red Giant Entertainment, Inc. seeking new leadership, including key positions managing the various product lines and ultimately new CEO and CFO positions. Until the new CEO is found, Powell will continue to act in the roles he currently holds and will help ease new leadership in place during this transition. This new leadership will extend to the revenue-generating product platforms they have, as well.
Powell further explained, "We want what is best for the company, and that requires delegating to qualified leadership who can also bring new creativity and vision. Frankly, it was always the plan to hand the reins over. It's an exciting moment for expansion. We've learned from what went wrong and taken the past several months to build things correctly from the ground, up. That cannot be done on a shoestring and a prayer, the way we had been. Nor can it be done with the limited personnel and management. It takes people and money to grow this business, and that is what we will do."
Red Giant is also putting in place a series of financing moves designed to clean up its debt, restart the product lines currently on hold, increase its marketing and expand its reach in new directions.
Additionally, the company has pledged to focus its attention primarily on revenue-producing sectors to become self-sustaining and build profitability. These plans will be further explained in the days ahead.
"We have identified several key areas that we plan to expand into," explained Powell. "We are an intellectual property development company, and while we continue to broaden that vertically, it is through innovative platforms such as POWFOLIO that we will expand our reach horizontally as well. At the end of the day, what matters is that we focus on generating revenue in a clear and consistent manner fully staffed with the infrastructure to support proper, methodical growth. The changes are necessary for this and it is how we affect our bottom line."
Red Giant provides news and updates at the following online locations:
http://redgiantentertainment.com and on https://www.facebook.com/RedGiantEntertainment
About Red Giant Entertainment Inc.
Red Giant Entertainment Inc. (OTC: REDG) is a Florida corporation that specializes in intellectual property (IP) development for multiple media platforms and transmedia propagation. The cornerstone of this development is based around the more than three dozen online and print graphic novel properties in various stages of production as well as the cast of thousands of characters from those series. These properties have a readership that numbers in the millions globally. Some of these properties are actively in development into other media such as movies, video games, television, novels, toys, apparel, applications, etc. through either direct production or licensing agreements.
Forward Looking Statements
This press release may contain "forward-looking statements." Any statements that are not statements of historical fact, including but not limited to statements containing the words "believes," "plans," "anticipates," "expects," "look forward," "estimates" and similar expressions, should be considered to be forward-looking statements. Actual results may differ materially from those indicated by such forward-looking statements as a result of various important factors, to include acquisition, production, marketing, distribution, competition with related patent, trademark and license issues involving contractual obligations and concessions. The Company does not assume any obligation to update any forward-looking statements to reflect events or circumstances after the date of this press release, except as required by applicable law. The Company files annual, quarterly and current reports, proxy and information statements and other information with the Securities and Exchange Commission. This press release should be read in conjunction with all of the reports that the Company has previously filed with the Securities and Exchange Commission for financial and other information about it. The references to the websites http://redgiantentertainment.com and www.facebook.com have been provided as a convenience, and the information contained on such websites is not incorporated by reference into this press release.
Contact:
Company
Red Giant Entertainment Inc.
info@redgiantentertainment.com
http://RedGiantEntertainment.com
Contact
Red Giant Entertainment
redgiantentertainment.com

Contact