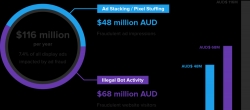 Sydney, Australia, March 09, 2017 --(
PR.com
)-- A study of nearly 1 million Australian browsers, conducted by Datalicious, has revealed the impact of ad fraud on the Australian digital media industry. The total impact to the Australian digital media industry is estimated to be $116 million, with $68 million impacted by fraudulent website visitors and $48 million impacted by fraudulent ad impressions.
The research was conducted by injecting ad fraud detection scripts into the page of partner websites. Over 1 million data points were captured as part of the analysis.
Ad fraud has been a topical issue within the media industry, as brands and marketers demand greater accountability from media agencies over the effectiveness and transparency from their media investment and performance. The research is an attempt to quantify the opportunity cost for the media industry should it choose to dismiss or overlook the tangible impact ad fraud can have on budget allocation.
Display ad fraud can be broken down into two major categories: Fraudulent ad impressions caused by ad stacking or pixel stuffing (ads that were never really served) and fraudulent website visitors caused by illegal bot activity (simulated users that do not really exist).
Impact of Ad Fraud Key Insights
1.2% of the recorded traffic is suspected to be bots, which translates to 4.36% of all display advertising traffic.
In Australia alone, this puts $68 million of display ad spend at risk in a year.
0.2% of all sessions are suspected for Ad stacking/pixel stuffing, which translates to 3.05% of all ad views which can be classified as suspicious ad servings.
In Australia alone, this puts $48 million of display ad spend at risk in a year.
The research shows that while it's not panic stations yet for Australian marketers, it highlights the need for independent media attribution outside of media agency reporting.
While announcing the publication of the research, Datalicious CEO Christian Bartens said, "While the overall percentage of ad fraud is still small, the resulting dollar value of budget wastage is already quite significant - and who really wants to spend a single cent on ads that are not being seen by real people? Marketers and media agencies need to start tracking the impact of ad fraud."
The research can be downloaded from the Datalicious website:
Impact of Ad Fraud
About Datalicious
Datalicious is a full-service analytics agency and technology firm, providing the tools and insights to help companies achieve more effective marketing outcomes. From its origins as a specialist consultancy based in Sydney, Australia, the company attracted investment from the Veda Group, an Equifax company and has grown to become an innovative software development company that now help many blue-chip clients across Europe and South East Asia to think outside the box and achieve data driven marketing best practice. Datalicious products include the SuperTag tag manager, DataExchange user ID management tool and OptimaHub cross-channel marketing analytics platform. Datalicious is also one of the biggest Google Analytics 360 resellers in Southeast Asia.
About OptimaHub
Datalicious marketing attribution platform with display performance reports adjusted for ad-fraud, ad-viewability and ad blocking.
Press Contact
Daniel Dewar
ddewar@datalicious.com