AD1 Global Completes Purchase of the Holiday Inn Savannah, GA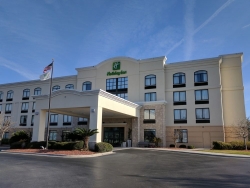 Hollywood, FL, March 10, 2017 --(
PR.com
)-- AD1 Global, a privately-held hotel investment company acquired the Holiday Inn located at 11 Gateway Boulevard East in Savannah, GA, on March 6, 2018.
The asset was purchased for approximately 10 million dollars, including transaction costs.
This purchase adds 100 rooms, including three suites and an onsite restaurant to the company's portfolio.
AD1 Global is focused on all facets of the hospitality industry, ranging from strategic acquisitions and new developments, to renovations and management services. They are currently pursuing several acquisition opportunities.
"We are delighted with the acquisition of this hotel," said Daniel Berman, President and CEO. "This transaction crystallizes that AD1 Global is serious about rapidly expanding its portfolio, and that we are confident looking outside of the strong Florida market for great opportunities."
This is the company's first hotel outside of Florida. They currently own properties in Orlando, Kissimmee, Palm Beach Gardens, Melbourne-Viera and Dania Beach.
The Holiday Inn Savannah is strategically positioned right off Interstate I-95 and just 15 minutes from the famous Savannah Historic District and the Savannah/Hilton Head International Airport.
"The hotel is also only minutes from Lady & Sons Restaurant featuring Paula Deen's famous recipes, Forsyth Park, the Mighty Eight Air Force Museum and the Cathedral of St John the Baptist," said Berman. "It's all about the location and the value."
The hotel is primed to take advantage of its location with the Corporate traveler segment as well, due to its proximity to the offices of Gulfstream Aerospace, Georgia Ports Authority, Norfolk Southern, Memorial Health University Medical Center, St Joseph's/Candler Hospital, and Brasseler USA.
The Holiday Inn features a full-service restaurant & lounge with room service available. The rooms are newly renovated and luxuriously furnished.
About AD1 Global:
AD1Global is a hospitality development and management company located in Hollywood, Florida. The company excels in all facets of the hospitality industry, ranging from the acquisition of existing hotels, new developments, renovations and daily operations.
Contact
AD1Global
Jon McMillian
954-434-5001
www.ad1global.com

Contact