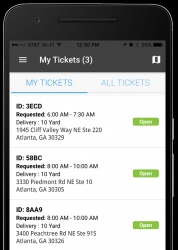 Atlanta, GA, March 16, 2017 --(
PR.com
)-- Barry Anderson (Co-Founder and COO) of Thumbster Connect, a cloud-based software provider in the waste-hauling industry, is excited to announce the release of four new features. Targeted towards Roll-Off Dumpster Companies, these features make the company's software offerings much more powerful and conducive to the needs of its users. They improve accessibility and ease of use, streamlining the process of waste hauling in ways that benefit both waste-hauling companies and their customers.
The first of four new features offered by Thumbster Connect, a leader in tech-based innovations for the roll-off industry is excited to confirm offering integration with Quickbooks Online and the ability to create invoices seamlessly. With this new feature in place, Quickbooks Online becomes the primary source for billing customers. It will allow companies to generate and process invoices much more quickly and efficiently with the ability to keep all pertinent invoicing information in a single location. Waste-hauling companies can now save critical administration time, and they can rest assured knowing that their invoicing process has been streamlined considerably.
Thumbster Connect is also adding the ability for customers to select specific time windows for deliveries or pickups. This feature will appeal to customers who want more flexibility, and it will aid waste-hauling companies in their ability to optimize ticket sequencing, making the dispatching of roll-off dumpsters much more convenient for all parties.
In addition to these features, Thumbster Connect has implemented improvements for a better overall experience on tablets (such as the Apple iPad) and other mobile devices. With this update, dispatchers and business owners can assign work orders to drivers instantly, improving communications and mobility in the industry significantly.
Finally, Thumbster Connect has implemented the ability for its app to be used internationally. Previously, the company had been operating solely within the United States, but has now expanded northward into Canada. The company sees this as just the beginning of its expansion, which will eventually allow it to serve customers and clients all over the world.
"We are super excited about the new features offered by Thumbster Connect. We see these solving a lot of problems that exist amongst roll-off dumpster companies. Our new Quickbooks Online integration is going to ease the one common challenge that hauling companies face -- billing. As for the expansion of our footprint outside of the United States, we are truly blessed and hope to further our relationships across different countries and cultures." - Barry Anderson, Co-Founder and COO, Thumbster Connect
Key Facts:
- Thumbster Connect has announced new features
- These new features improve usability of the company's software and expand its accessibility
- In particular, integration with Quickbooks Online will improve billing in ways that no other application can match
- The addition of these features is part of an ongoing effort to continuously improve Thumbster Connect's web and mobile applications
For more information on Thumbster Connect and its software, visit the company online at
https://thumbsterconnect.com/
or email support@thumbsterapp.com.
About Thumbster Connect
Thumbster Connect is a cloud-based software provider in the waste-hauling industry. Its solution allows business owners and dispatchers to send work orders instantaneously to drivers, track all of their containers in real time and seamlessly bill customers in a single place. Thumbster Connect prides itself on being easy to use at an affordable price.
Contact Information:
Thumbster Connect
Barry Anderson, Co Founder and COO
300 Galleria Pwky
Atlanta, Ga 30339
(877) 708-8276
banderson@thumbsterapp.com
https://thumbsterconnect.com/