3 Main Tips to Choose the Best Galapagos Expedition
When it comes to cruising the Galapagos Islands, one size does not necessarily fit all. While at first, a small, single-guided ship may seem the most appealing way to go, larger, multiple-guided ships actually offer distinct advantages for travelers looking to witness a myriad of natural wonders across one of the world's most cherished wildlife destinations. Just ask the travel experts at Metropolitan Touring.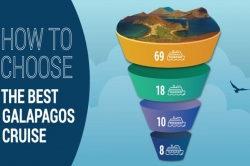 Quito, Ecuador, August 29, 2019 --(
PR.com
)-- As the pioneers of cruising in the Galapagos Islands for nearly 70 years now, Metropolitan Touring truly knows its way around the volcanic archipelago like no one else. The company operates three vessels in the islands: the Santa Cruz II (with 50 cabins and space for 90 guests); Yacht La Pinta (with 24 cabins for 48 guests); and Yacht Isabela II (with 20 cabins for 40 guests).
Whatever the ship or itinerary, guests aboard Metropolitan Touring's Expedition Vessels can expect flawless, 5-star hotel-style service at sea and unequaled access to the archipelago, all of it in the company of expert and certified Naturalist Guides.
Currently, some 69 cruise ships are licensed to tour the Galapagos Islands, each sailing a route drawn up by the Galapagos Islands National Park Service to provide access to up to 145 terrestrial and marine landing sites.
However, with so many vessels to pick from, finding the right one might seem daunting at first. But that's exactly what Metropolitan Touring is here to help with via their blog on
How to Choose to the Best Galapagos Cruise
.
For more information or reservations for exploring the Galapagos Islands with Metropolitan Touring, please call:
Direct Customers: (+1) 855-500-0496
Travel Agents: (+1) 888-310-5745
Or visit Metropolitan Touring's website via the link to the blog above.
Contact
Metropolitan Touring
Adriana Rivas
5932 298 8400
https://www.santacruzgalapagoscruise.com

Contact