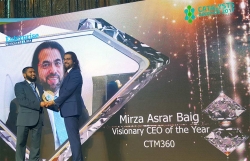 Manama, Bahrain, March 20, 2017 --(
PR.com
)-- Mr. Mirza Asrar Baig, founder & CEO of CTM360, was recently awarded "Visionary CEO of the Year" at the Catalyst Awards, part of the Future IT Summit 2017, held at The Burj Al Arab Hotel, Dubai on 14th March 2017.
Recognized as a serial entrepreneur and business builder, Mr. Mirza has a history of success within the Information Security and Cyber Security space. Having served the region's technology sector for the last 30 years, Mirza has played an active part of nurturing innovation and facilitating collaboration among practitioners.
As part of his presentation at The Future IT Summit 2017, Mr. Mirza emphasized the importance of Cyber Resilience and Cyber Vigilance in Cloud Security and how organisations should redefine their approach into "Doing different, rather than doing more." He explored the traditional definitions of IT Security, Information Security and Cyber Security, and mapped them to the real world. "IT Security entails enhancing the user experience and Information Security deals with protecting information assets. Cyber Security is mainly responsible for identifying and neutralizing threat vectors in cyberspace," said Mr. Mirza.
Mirza is also known as "Father of PCI" in Saudi Arabia for introducing and developing a collaborative compliance program for the banking sector in 2011 that resulted in Saudi being the first country in the world where all banks were PCI DSS certified. Furthermore, with his vision of a Cyber Threat Management center in GCC, Mirza has initiated multiple R&D initiatives and regional collaboration efforts that have resulted in a spin-off, CTM360, based out of the Kingdom of Bahrain.
About CTM360 ®
CTM360 ® is a comprehensive Cyber Threat Management system based on the philosophy of collaboration to address the challenges of an ever-evolving cyber threat landscape. Headquartered in the Kingdom of Bahrain, CTM360 provides "Dependable Security as a Service" via a secure cloud-based platform, which enables members to tackle evolving cyber threats on a real-time basis. CTM360 cyber threat analysts operate 24 x 7 x 365 and have already gained the trust of 25 of the Top 50 GCC banks and other major organizations.
CTM360's mission is to enhance member cyber resilience, with the strategy of identifying and managing attacks at an early stage. Following success in the GCC, CTM360 is now global with a dedicated offering keeping a steady finger on the pulse of cyber threats seen across the world. Within CTM360, a fully equipped cyber incident response team detects cyber threats relevant to member organizations, conducts analysis on impact and connects the dots across multiple incidents. This core service is strengthened by cyber footprint management and real-time situational awareness. For more information, visit http://www.ctm360.com