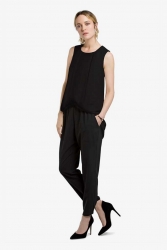 New York, NY, March 22, 2017 --(
PR.com
)-- Mitera, a fashion brand empowering modern moms through pregnancy, nursing and beyond, celebrated this year's International Women's Day with the launch of its first set of matching pants and top.
Mitera offers a collection of clothing specifically designed for those bold women who embrace motherhood but refuse to sacrifice their personal goals and dreams because of it. To support them in their multifaceted missions as new mothers, partners, business women and ceiling smashers (especially when re-entering the workforce), every piece of Mitera clothing is designed for women with a strong sense of style, while secretly engineered with Mitera's proprietary motherhood solutions. These innovations include:
- Designs and materials that accommodate a growing bump, but look just as great postpartum and for years beyond
- Hidden zipper access for breastfeeding or pumping
- Stow-it-all pockets for pacifiers, tissues… the essentials
- Premium quality, machine washable fabrics
With the dual release of The Doreen Pants and Jade Top, the brand stays true to its concept of "Practical LuxuryTM," delivering timelessly beautiful, yet highly functional clothing for modern mothers. Through its strong brand messaging and growing social media community it continues to inspire confidence in moms and moms-to-be who believe motherhood only enhances who they are.
The Doreen Pants, made from premium Japanese stretch fabric, features a unique adjustable waistband – think of kids' pants but nicer – to be worn from pregnancy to postpartum. The matching Jade Top is cut to work flowing or tucked. Its inner layer, made with the softest Italian Modal (natural fiber that is environmentally friendly), has a center slit for discreet breastfeeding.
"I am incredibly grateful to those who helped to get the brand where it is today," explains Shimada, while reflecting on the past year. "I want to thank each of our customers who took a chance on a young brand like ours. Thanks to their feedback, I am so excited to be able to release the Doreen Pants and Jade Top." Shimada added, "We find ourselves in an unique time in history where our fundamental rights as women and mothers are being challenged. As a brand, we will not only continue to empower and support our fellow women and mothers but join them in their fight for women's rights."
The newly released Doreen Pants and Jade Top are available exclusively through Mitera's e-commerce site – www.miteracollection.com.
About Mitera
Mitera is a fashion brand that creates timeless, versatile and functional clothing to empower and support modern moms through the joys and challenges of motherhood: by making pregnancy, nursing and pumping more effortless, and by inspiring and strengthening them to continue their journeys as individuals. We take pride in our responsible and ethical manufacturing practices and support mothers and newborns around the world with our mother-to-motherTM program. Mitera is headquartered in New York City, NY.
Contact:
Yoko Shimada, Founder and CEO
e: yoko@miteracollection.com
w: www.miteracollection.com