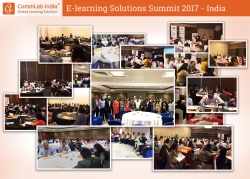 Hyderabad, India, March 30, 2017 --(
PR.com
)-- CommLab India, the global leader in offering technology-enabled solutions that change the way organizations train their workforce, successfully hosted the Training Challenges and E-learning Solutions Summit 2017, across 4 major Indian metropolitan cities.
The event enjoyed great success with over 200 learning and development professionals from a diverse cross-section of industries including hospitality, energy solutions, retail, law enforcement agencies, premiere healthcare institutes, logistics giants, universities, public sector unions, and more, in attendance. It received positive reviews with delegates sharing it helped them discuss their training challenges, explore e-learning, blended learning, mobile learning, and other technology-driven training solutions, network with peers, and take home potential solutions.
"The summit gave us a glimpse of the exciting possibilities offered by technology and has made us confident of putting together a business case our leadership will be hard put to refuse," said the training manger of a major retail chain.
Drawing confidence from the tremendous appreciation and positive reviews, CommLab India is all set to take this event overseas, starting with a spectacular event in Switzerland. "The proven power of the summit to benefit organizations looking to implement e-learning has given us the impetus to take this event a long way from our shores to benefit a wider audience," said RK Prasad, COO & Co-Founder, CommLab India on the spectacular success of the E-learning Solutions Summit.
For more details, explore
here
.
About CommLab India
CommLab India LLP is a leading learning solutions company with expertise in design and development of eLearning courses. Its learning solutions include eLearning course development, mLearning solutions, conversion of legacy courses into the mobile compatible HTML5 format, translation of online courses and hosting and managing training materials on LMS.
CommLab has worked with organizations in various industries such as finance, insurance, manufacturing and healthcare. Based in India, it is a preferred vendor to several Fortune 500 companies, such as Alcoa, Mettler-Toledo and Pepco Holding Inc. and has an ongoing relationship with organizations such as SAI Global and Unilever.