Top of the Charts: Americans Move to China and Become Local Legends by Making a Hit Music Video About "The #1 Most Livable City in China"
A group of international friends from all over world got together and made an awesome viral bilingual music video about "The Beer & Sailing Capital of China." The video showcases the city's beautiful golden beaches, bikini clad women, world-class sailing, iconic scenery, booming economic center, delicious seafood, and world-famous Tsingtao Beer.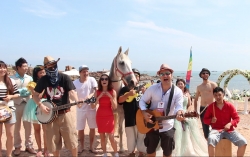 Hollywood, CA, April 06, 2017 --(
PR.com
)-- Qingdao, China was recently named the "#1 Most Livable City in China" and it has drawn many tourists, students, and business people to explore it's wonder.
A group of talented friends loved the city so much that they recorded
a song and music video called "Love Qingdao" about the city and that went viral reaching more than 1,000,000 views worldwide
.
The friends are part of a creative collective of talented individuals called "The Qingdao Allstars" and have quickly become local legends and experts of the blossoming creative and business scene in China. Collectively, they represent 5 different continents and speak more than 10 languages.
The group's creator and Executive Producer, J.D. Holtrop, also co-starred in the video and is no stranger to media success. JD was also one of the producers of the Emmy-award winning hit TV show Top Chef as well as the social media company MySpace.com that was was valued at around $12 billion when he left at it's peak and now has his own company, Allstar Productions, which is the company responsible for organizing the project. Nonetheless, he still seems very down to earth and said, "We're really honored to have the support of the city, the people, and great friends." Moving forward, he and his friends are really excited by a lot of the upcoming projects they are all working on and opportunities available in the city. Ranging from launching a new best of city guide, fashion line, aviation service, international sport & social club, and even collaborating with the new Wanda Movie Studios which is estimated to be the biggest movie studio in the world when construction is completed.
All in all, it seems like The Qingdao Allstars really do have many reasons to love Qingdao, China, and all the opportunities available. So, if you are looking for a great city and some passionate, professional, and fun loving local experts in China to help launch a new company, market your business, or just want some advice about the local hot spots to enjoy in China, look no further.
Contact
Qingdao Allstars
Joseph Donald Holtrop
1 (310) 651-8165
qingdaoallstars.com/

Contact