Vibrant Palette Presents "Emergence: An Exhibition of Initial Works," April 13
Studio for adult artists with developmental disabilities presents artwork by eight Seattle artists.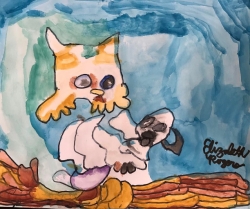 Seattle, WA, April 06, 2017 --(
PR.com
)-- On April 13, 2017, Seattle nonprofit Vibrant Palette will present an exhibition of initial works by eight artists with disabilities at Generations, 507 E. Mercer Street, from 6 to 9 p.m. Vibrant Palette's mission is to provide a creative studio environment for adult artists with developmental, physical, and mental disabilities.
Painter Elizabeth Rogers uses art as a way to express her love of and connection to animals (pictured at left). With bold colors and a lively, playful perspective, her animal portraits radiate energy. Another artist, Joey Joseph, works in mixed media. His intensely colorful, modern portraits and collages explore themes surrounding family: the challenges and emotions in his relationships with his current family, as well as his dreams for a family of his own and an independent life in the future.
"Our mission is to make Seattle's art community more inclusive and feature art by artists with disabilities who offer a unique perspective into their daily lives, their hopes and dreams," says founder and executive director Diane Knoll. "Our goal is having the artists see their artwork displayed in public, which is very empowering, and also helping the wider community to appreciate and validate their work."
In addition to original artwork, the show will feature prints, art cards, and T-shirts for sale. Fifty percent of the commission goes directly to the artists, and fifty percent is funded back into Vibrant Palette to cover the costs of studio time, materials and staff.
About Vibrant Palette
Vibrant Palette aims to serve adults with developmental, mental, and physical disabilities by providing a day program in a professional studio environment with a focus on learning about and creating visual arts. Program activities include studio time for painting and clay mediums, guest art teachers, and community outings to local galleries/museums where program participants can learn about the creative processes and experiences of other artists.
Instagram: www.instagram.com/vibrantpaletteartscenter
Facebook: www.facebook.com/vibrantpaletteartscenter
Contact:
Diane Knoll, Executive Director
206-429-5202
diane@vibrantpalette.org
http://vibrantpalette.org/
Contact
Vibrant Palette Arts Center
Diane Knoll, Executive Director
206-429-5202
vibrantpalette.org

Contact