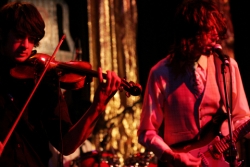 Los Angeles, CA, February 08, 2008 --(
PR.com
)-- It was a big day for Hindu Kush, a new Psychedelic Dance Rock band from Ojai, CA. First, their song "Day Fire" was selected to be featured in the upcoming Warner Bros film, "Lost Boys 2: The Tribe." Then that night, the band rocked a packed live audience at B.B. King's Blues Club in Universal City to win first place and $2,500 in the finals of the Battle of the Bands. This competition, run by Big-D Promotions, had been going on for six months, involving over 70 bands.
The band's four members: Elijah Behar on guitar and vocals, Nathaniel Hartnett on bass, Logan Hugueny Clark on drums and Pablo Esquer on violin has been playing together for less than a year. They have 25 original songs in their repertoire and have been recording demos, playing local clubs and private parties. Melanie Wicker, a music industry veteran has been helping to guide the band as they start to look for broader exposure in films and concert venues.
To clinch the prize, Hindu Kush played six original songs, opening with the instrumental "Cheyenne Woman," followed by the hard rocking, "Coke Straw" which segued into the melodic rock of "Day Fire." This was followed by the crowd pleasing "Love from Above," the haunting "Tyger" and the psychedelically intoxicating "Orange Door Hinge." Most of the songs can be heard at www.myspace.com/hindukushojai and purchased on Itunes.
The song "Day Fire" that was chosen for the Warner Bros upcoming film, "Lost Boys 2," a sequel to the cult classic 1987 vampire movie was actually about the wildfire that nearly ravaged the town of Ojai in 2005. The sequel, directed by PJ Pesce (Sniper 3, From Dusk Till Dawn 3) features the song in a critical scene when the hero (played by Tad Hilgenbrink) and heroine (played by Autumn Reeser) are seduced into the vampires clutches during a wild party at the head vampire's (played by Angus Southerland) beach mansion.
Hindu Kush currently has over 10,600 friends and 71,000 plays on myspace and is accepting offers from representation and record labels.
Press Contact: Andrew Behar, hindukushmusic@sbcglobal.net 805.861.0888
Photo Credit: Jessie Webster
###