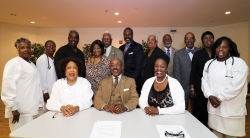 Melbourne, FL, April 13, 2017 --(
PR.com
)-- Elderly Compassionate Care a program associated with the Macedonia Education Technology and Career Academy submitted for USA Today's "A Community Thrives" grant competition to receive funding to provide scholarships for Home Health Aide (HHA) and Certified Nursing Assistant (CNA) training. This grant offers the potential for an award of $100,000 or $50,000.
In order to bring this funding into communities for this much-needed training, help is vital. Finalists are determined by the number of votes received for their video submission. Voting opened on April 12th and closes on May 12th. Individuals can vote one time per day. The video is located at the following link: http://act.usatoday.com/submit-an-idea/#/gallery/60375760.
Please mark your calendars to support this effort each day of the voting period so that this funding may be awarded to Brevard County county citizens who seek employment as HHAs and CNAs but do not have the financial ability to access the training. The funding will support training for future HHAs and CNAs, resulting in meeting the demand for elderly care. By working together, communities nationwide can make this happen.
If you have any questions regarding the Elderly Compassionate Care initiative, please contact Teri Jones at tmack8873@gmail.com or 321-626-6571.