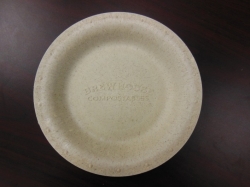 Camarillo, CA, April 12, 2017 --(
PR.com
)-- Chamness Biodegradables, LLC, a manufacturer of recyclable, 100% biodegradable and 100% home compostable tableware and packaging is pleased to announce its newest product: Brew House Compostables. The Brew House Compostables line of products is made from recycled hops collected from local California breweries. So, for those of you who love beer, these plates are for you.
The plates and more come in any color and one can see the hops in the disposable plates which are safe in the microwave, oven or freezer. The natural color plates are sold on the www.brewhousecompostables.com website today and other colors, shapes and more can be ordered directly from our warehouse and even embossed with company logos or messages.
"As the demand for environmentally friendly tableware grows, we are excited to introduce products that no one has seen before. We replaced new ingredients with recycled hops and got super strong plates, bowls and more that are great for story-telling and the environment too," said Renee Fry, CEO of Chamness Biodegradables. Renee also added, "We just launched our new facility in California and this is helping us create jobs and stay local as it is local companies whose hops we use to make the products then we ship them around the world."
Chamness Biodegradables can be produced in any color of the rainbow with 90 degree angles and can withstand cold down to -30 degrees Fahrenheit yet can also go up to 420 degrees Fahrenheit. The plates and bowls can be composted at home in 40 days or in commercial facilities in 10 days or recycled with your home recycling.
"We talked with lots beer drinkers and asked them where they thought the materials went. We got some very interesting (and wrong) answers, and most guessed landfills. When we showed folks our new plates, their eyes lit up and almost everyone said, 'Wow, this is incredible!' And when we said we make them here in the US, it was a done deal for most," added Dave Darnbrough, the Vice President of Operations for Chamness Biodegradables.
About Chamness Biodegradables
Headquartered in Blairsburg, IA, and with manufacturing in Camarillo, CA, Chamness Biodegradables creates and manufactures 100% compostable and biodegradable serve-ware, bakeware and packaging products, all made in the United States. Products span the colors of the rainbow and are good for temperatures from -30 degrees up to 420 degrees F. From big to small, 90 degree angles to circles, Chamness Biodegradables creates strong products that are good for the planet and great for our customers and consumers! Visit us at www.chamnessbiodegradables.com.
Contacts:
For additional information, please contact Chamness Biodegradables, rfry@chamnessbiodegradables.com, (617) 216-3411 and to learn more about our company, please visit www.Chamness Biodegradables.com