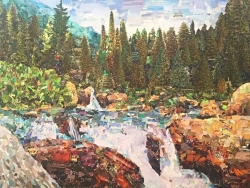 Granbury, TX, April 13, 2017 --(
PR.com
)-- The Dora Lee Langdon Cultural Center announces the solo exhibition: The Essence of the World: Works by Nataliya Scheib
Tarleton State University and the Dora Lee Langdon Cultural and Education Center in Granbury, TX, are pleased to announce a solo exhibition, The Essence of the World, by Houston artist Nataliya Scheib. An opening reception will be held April 29, from 5 to 8 pm. The Essence of the World will run until June 21, 2017.
Scheib's first solo event, "The Essence of the World," is dedicated to a celebration of human life, and is comprised of 16 collages and paintings. Sophisticated and multi-layered, the collages, at first glance, appear to be painted landscapes, re-imagined iconic imagery, or floral paintings, but a closer look reveals deep strata of media; a metaphor for ever-deeper layers of interpretation. Layers lead to the surprise of discovery as Scheib's painterly collages invite personal interpretation. Scheib refers to her intuitive technique, an intensive process of encounter and layering, as "painting with images."
Born in Kozyatun, Ukraine, Scheib uses her media she describes as, "familiar, material relics from my life," including textiles, traditional crochet items, magazine images, and fragments of other objects, as well as "the traces we leave upon the spaces we inhabit."
The materials are transformed into an energetic essence of reflective meditation on the artist's travels, as well as her inner environment. Each work consists of a striking accretion of material, meaning, and emotion. Notable in her mature collage technique is her inventive use of color, value, and hue gradients.
About the artist: Noted for her meticulous collages, Nataliya Scheib has also been recognized for her traditional Ukrainian-style painting. A large-scale reproduction of her oil painting, "Roses and Hearts on the Blue Sky" was installed on a building façade at 901 Main Street – part of a 2016 Art Blocks Houston project.
Scheib's work has been published in numerous periodicals and magazines, including: Houston Downtown Magazine; The Houston Chronicle; Art Studio; Local Houston Magazine; ArtAscent Magazine; Visit Houston Texas, Downtown District Houston, and Art Blocks Houston.
Her work has shown at several U.S. exhibitions and venues, including: Katy Contemporary Art Museum, Katy, TX; Fine Art Museum, Gadsden, AL; North Gallery Department of Art and Design, San Jacinta College, Houston, TX; Nicolet Gallery, Nicolet College, WI; Department of Art and History, University of Texas at Tyler, Tyler, TX; Lawndale Art Center, Houston, TX; Dacia Gallery, New York, NY; and Blue Mountain Gallery, New York, NY, to name a few. She has shown internationally in Berlin and Romania.
Scheib's work has been featured in exhibition venues such as; The National Association of Women Artists; Oil Painters of America; National Oil and Acrylic Painters Society; and The International Society of Experimental Artists.
Scheib has received several awards and honors, including, "The Special Recognition Award for Outstanding Art, Landscapes Art Competition" for oil painting by the Light Space and Time Gallery. She was among 79 American artists to be represented in Art Buzz's book, "The 2014 Collection, Volume VII." Visit www.NataliyaScheib.com for additional information.
In 1986, Scheib completed an intensive 4-year classical art education at The School of Art, Ukraine. In 1990, she completed a BA in Architecture at the College of Construction and Architecture, Zhitomir, Ukraine. She then earned a Master's Degree in Civil Engineering and City and Urban Planning at the Kiev National University of Civil Engineering and Architecture, Kiev, Ukraine, in 1997. After coming to the U.S, Scheib continued her studies in painting and collage at the Glassell School of Art at the Museum of Fine Arts, Houston, TX.
Scheib has participated in international artist residencies in Romania and Germany. She was selected for the Summer 2015 "Autocenter: Intensive Art Residency" in Berlin. In September, Scheib contributed to a "Public Art Intervention" at the Berlin Art Institute, East Berlin, Germany. Her works, including commissions, can be found in private collections in the United States, Ukraine, and Spain, and public works on the streets of East Berlin, Germany.
The Essence of the World by Nataliya Scheib, April 29 – June 21, 10 am to 4 pm.
Opening Reception - Saturday, April 29, 5:00 – 8:00 p.m.
Gallery hours: 10 am - 4 pm, Monday - Saturday.
For more information and high-resolution images please contact:
Nataliya Scheib, 571-212-9279
Nataliya@NataliyaScheib.com
www.NataliyaScheib.com